26 Sep 2022
AriensCo Distributing Full Range of AS-Motor Products in the UK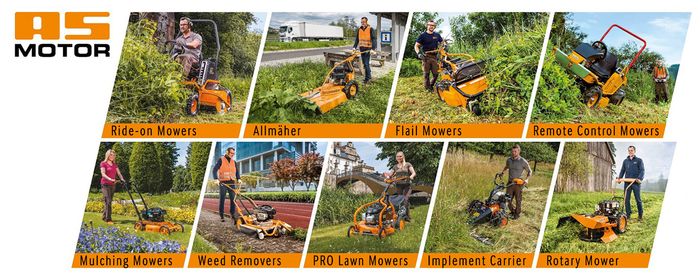 AriensCo, an industry leader in outdoor power equipment, is delighted to announce it will be distributing the full range of AS-Motor's specialised machinery for high grass, slopes and mulching in the UK.
As part of its strategic international growth plans, AriensCo acquired AS-Motor in May 2021, seeing perfect synergy with its family run ethos, longevity in the market and desire to develop high quality and dependable mowing solutions.
AriensCo will distribute AS-Motor's full line up of products including professional lawnmowers, Allmaher high-grass mowers, ride-on high-grass mowers, remote-controlled high-grass mowers, and mulching mowers as well as weed removers.
AS-Motor's professional and mulching lawnmowers guarantee robust and reliable performance and impressive cutting even when working on slopes. Perfect for professionals, the AS-Motor products come with EGO Li-On battery options, either two or four stroke engines, all-wheel drive functionality, limited slip differential and an automatic parking brake.
AS-Motor ride-on high-grass mowers provide the perfect combination of comfort and high-grass cutting force, producing excellent cutting results in the toughest cutting conditions. The mowers also include a stable blade system, low centre of gravity, and powerful drive and cooling systems which ensure endurance and performance no matter the terrain.
AS-Motor is also leading the way in remote controlled technology. It currently offers remote controlled high grass mowers which not only improve safety for users but makes dangerous or hard to reach areas a thing of the past.
AS-Motor also produces weed removers which give local authorities the power to control unwanted wild growth thanks to its patented oscillating brush system which removes weeds from the root. This means there is no need to use harmful pesticides that are not environmentally friendly.
AriensCo will also be selling AS-Motor's growing range of electric products powered by EGO batteries.
Brad Stiles, Vice President of Sales at AriensCo said, "We're thrilled to be adding AS-Motor's products to AriensCo's extensive portfolio of grass cutting solutions for domestic, prosumer and commercial customers. For over a year now, AS-Motor has found a new home at AriensCo because it embodies our family values and puts customers first. With AS-Motor on board, AriensCo can continue its incredible growth throughout EMEAA and even further afield."
AriensCo will distribute AS-Motor products from September 2022.
If you'd like to become an AS-Motor dealer, please email bturvey@ariensco.com