03 Oct 2022
AriensCo unveils AS-Motor and introduces the latest Ariens line-up at Saltex 2022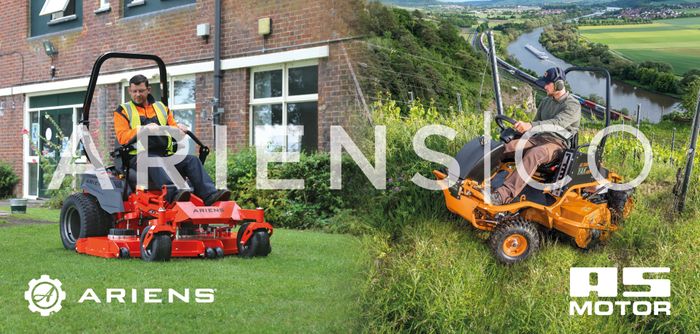 AriensCo, an industry leader in outdoor power equipment, will be exhibiting its Ariens range of professional petrol and electric zero-turns alongside AS-Motor's speciality products at Saltex in Birmingham's NEC, from 2nd – 3rd November.
This is the first UK trade show bringing Ariens and its range of industry leading zero-turns and AS-Motor's specialised high grass, slopes and mulching mowers together since AriensCo became the UK distributor of AS-Motor earlier this year.
On display will be Ariens' APEX and ZENITH. The Ariens' APEX has established itself as an industry leading zero-turn with uncompromising performance, power and precision, available in 48" and 52" decks with side and rear discharge configuration. ZENITH is Ariens' fully commercial zero-turn with enhanced operator features. It comes with 60" or a newly developed 52" deck and has rear and side discharge capability. All Ariens petrol powered zero-turn mowers for the UK and Europe are manufactured at its Oxfordshire factory.
Excitingly, Ariens' battery powered ZENITH E zero-turn will also be on show. ZENITH E retains all the same top-class features as the ZENITH but with no emissions and low noise. The ZENITH E range has increased with the addition of 48" and 52" side and rear discharge decks alongside the original 60".
Additionally, Ariens will be presenting its new commercial stand-on mower, the ARROW. This low-profile machine offers professionals both speed and accuracy, giving them the ability to mow large areas of grass and manoeuvre easily around flower beds, trees and other obstacles. ARROW comes with both 32" and 36" decks and will soon be available to purchase.
Following the recent acquisition of AS-Motor, AriensCo is excited to be exhibiting its range of high- grass and mulching products. On display will be the SHERPA and YAK commercial ride-on mowers. These machines combine strength, performance and comfort to tackle even the toughest meadows, slopes and high grass areas.
Furthermore, AS-Motor's range of petrol and battery powered walk-behind mulching mowers will be on display as well as its specialist battery powered WeedHex tool.
Brad Stiles, Vice President of Sales, EMEAA, said, "AriensCo is one of the fastest growing outdoor power equipment suppliers in Europe and we can't wait to show Saltex the benefits of joining us on this incredible journey. Our exceptional line-up of Ariens petrol and battery powered zero-turns, speciality AS-Motor products and outstanding customer service sets us apart from others in the industry. There's never been a better time to grow with us."
Visit AriensCo at stand E090 and speak to one of our sales representatives for further information on the Ariens and AS-Motor product ranges. Alternatively visit ariens.eu or as-motor.uk for more information.