Big Success for the Micro-Spray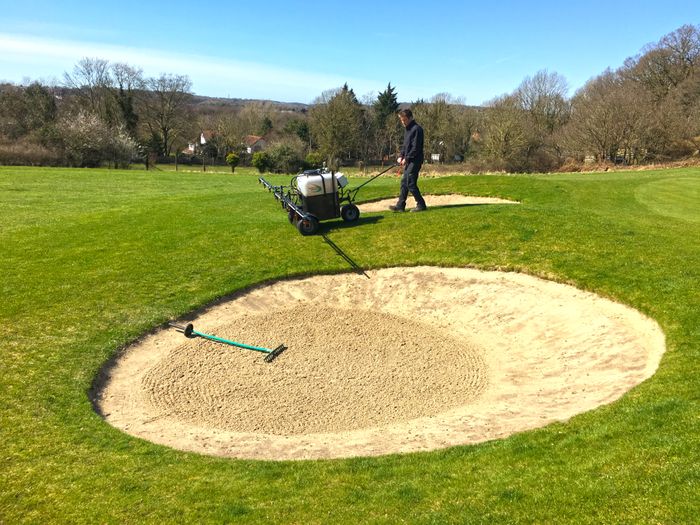 The demands from an amenity sprayer extend far beyond reliability. Strength, durability, and flexibility are naturally important, but a key requirement is low impact on the surfaces where the sprayer will be used.
For sports turf professionals, the Martin Lishman Micro-Spray is the number one choice of pedestrian sprayer. Combining control and power with responsive easy handling in a compact form, the fully electric Micro-Spray delivers a precise application with minimal turf impact, making it ideal for use on sports turf and golf courses.
Amenity specification with agricultural strength and durability has been the key design element of all Martin Lishman compact sprayers, and the Micro-Spray is no different. Its unique design and versatile functionality have captured the attention of the industry.
With satisfied users worldwide, Martin Lishman have reported a very successful year for the Micro-Spray. This is thanks to an exclusive partnership with Campey Turf Care Systems, who brought their expertise and delivery network into the mix to put Micro-Spray units in every corner of the globe, from Europe to Australia.
Designed and manufactured in England at the Martin Lishman site in Bourne, Lincolnshire, the combination of accurate control and spraying power in a lightweight package to prevent compaction and turf damage is at the forefront of the Micro-Spray's design. A strong powder coated steel chassis, driven by an advanced rear wheel drive system and two large deep cycle batteries help maintain a low centre of gravity and weight balance.
The Micro-Spray's lightweight design makes it ideal for delicate spraying areas such as for Golf courses
The UV-safe 120 litre tank feeds the 23 litre/min pump which can accommodate a 2.5 to 3.5m folding boom and a wide range of application rates. Easy-to-reach controls enable the operator to quickly adjust sprayer settings including drive direction, speed, pump pressure and optional bout marker controls.
"It's been great to watch the Micro-Spray gain traction and carve its way into the amenity industry", explains Joel Capper, Managing Director of Martin Lishman Ltd. "We have worked with some very talented and influential people to make the sprayer what it is today. Now with the sales and distribution support from Campey Turf Care, we look forward to the next chapter in the Micro-Spray success story".
The Micro-Spray forms part of the Martin Lishman compact sprayer range, including trailed, ATV mounted and demountable models. Tank sizes range from 70 to 600 litres and boom widths from 1 metre to 8 metres. Specialist or bespoke requests can also be catered for which allows considerable variation of models to meet the specialist needs of customers.
For more information on the Martin Lishman Micro-Spray, visit www.martinlishman.com