26 Sep 2022
Electric performance from the Ariens Zenith E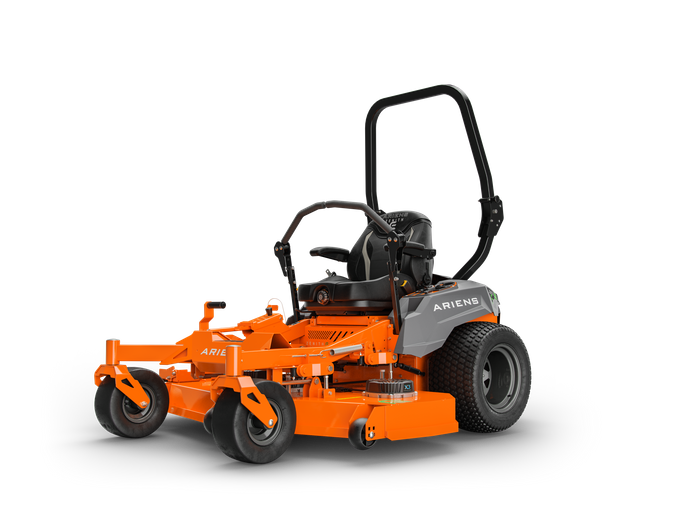 The Zenith E is built upon the fully commercial Ariens 'Zenith' platform, well known for its strength, durability and cutting performance. The Zenith E is powered by a FusionCore lithium-ion battery system, exclusive technology developed by Ariens. Combined with next-generation battery technology, the Zenith E is a formidable competitor to conventional commercial petrol and diesel zero-turns. It is one of the first battery-powered commercial zero-turn mowers developed by an outdoor power equipment company.
The Zenith E has all the power and performance of its petrol counterparts without the noise, vibration and exhaust. Coupled with the increased productivity of a zero-turn, it is perfect for commercial operators looking to capitalise on the growing number of 'green' contracts. Fully electric, the Zenith E's FusionCore lithium-ion 56v DC battery system has four interchangeable, easily removable, sealed for life batteries, each with a 4kWh capacity. Operators can work with minimum interruption by swapping depleted batteries with fully charged ones in seconds. It is designed to provide the operator with a continuous cutting time of up to 5.5 hours on a full charge, and coverage of up to 62,726 sq/m (15.5 acres).
Where a mix of charge levels is detected in the four batteries, the patent-pending management system prioritises how the Zenith E balances power. It will only draw from the full batteries until they reach the same level as those with less charge. Once all four are at the same charge level, the machine will draw power from them equally, thus ensuring consistent power and cutting performance throughout. The system is IP65 rated, sealed from moisture, dust and debris and is safe to use in wet conditions. Batteries can be charged in 12 hours with a standard charger or in just 5.3 hours using an optional quick charger.
The Zenith E features patent-pending spindle technology. This system is designed to protect the spindle motors from damage in the event the blade strikes a hard object, such as a manhole cover or large rock. The two proprietary hub and wheel electric motors work with a dual reduction planetary gearbox to produce an exceptional level of torque, providing the operator with the same feel and driving experience of a petrol zero-turn.
There are two configurations for the 152cm (60"), 132cm (52") or 122cm (48") deck: side discharge and rear discharge. Both are fabricated from highly durable, 10-gauge steel. The Zenith E boasts 15 cutting positions, easily selected with a vertical pin drop and foot-operated deck lift system. The high-back, full suspension seat with padded armrests offers all-day operator comfort. The frame is an industry-leading design with large formed tubular steel chassis for durability.
The Rollover Protection System (ROPS) is fitted as standard. A range of optional accessories is available including LED lights, beacon light, mulch kit, rapid charger and an off-board charger. The Zenith E comes with a 5-year/1500 hour warranty with no hour limit on the first two years and a 3-year warranty for the batteries. For further information, please e-mail zenithe@ariensco.com , call 01844 277035 or visit ariens.eu/series/zenith-e