11 Aug 2022
eWorker Wins Silver at Highland Show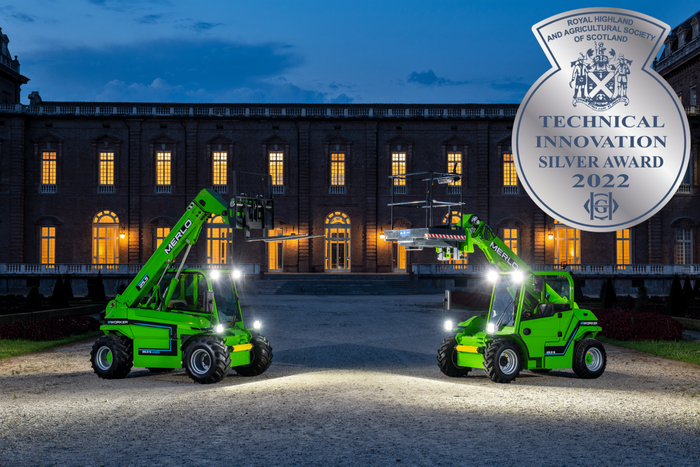 eWorker Wins Silver at Highland Show
The Merlo eWorker is a fully electric telescopic handler, with a run time of eight hours from a nine hour charge of its high capacity 48 Volt battery. The eWorker is Merlo's most compact handler to date, working in confined spaces and around livestock with ease. The added benefits zero noise, zero emissions and zero fossil fuel usage make for an attractive proposition in a wide range of applications.

Offering a 2.5 tonne lift capacity and a 5m maximum lift height the eWorker is available in either a 2 or 4 wheel drive configurations. Rear axle steering with an 85 degree steering angle makes the eWorker one of Merlo's most manoeuvrable and dynamic machines to date. A wide range of Merlo attachments are available including buckets, pallet forks, muck forks and work platforms.
The Royal Highland and Agricultural Society of Scotland (RHASS) has established a reputation for recognising and rewarding excellence. The Technical Innovation Awards are a distinctive and prestigious means for manufacturers, distributors and inventors to promote new ideas, technologies and innovations.

"It's a real honour to receive this prestigious award from RHASS," states Shaun Groom, General Manager of Merlo UK. "We were particularly pleased that the judges recognised the innovative and sustainable nature of the eWorker. Its zero emissions and fully recyclable battery means you will not find a greener alternative in the telescopic handler sector"

The judges noted the versatility of potential applications of the eWorker, as well as commending its run time, focus on sustainability and usability.