28 Sep 2022
GKB to showcase new sustainable solution to leaf clearance – stand H051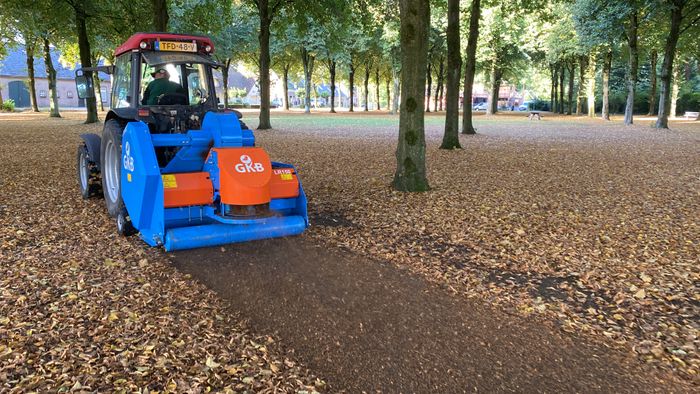 GKB Machines will be retuning to SALTEX for 2022, showcasing a new solution to the problem of large-area leaf clearance. The GKB Leaf Reducer offers an economic and environmentally-friendly alternative to the time-consuming task of leaf collection – effectively mulching the material and returning it, and its nutrients, back into the surface to the benefit of impoverished soils. This, and many other innovative machinery solutions for natural, hybrid and synthetic surfaces, will be on show on stand H051.
The Leaf Reducer has been developed in direct response to demand from local authorities, looking for a more sustainable working method to using blowers, vacuums and trucks to collect and dispose of fallen leaves. In a single pass, the flails on the Leaf Reducer collect the leaves before a turbine provides both initial fragmentation and the airflow needed to pull the material into the machine where it is further milled into a fine mulch. The fine 'porridge-like' material is then returned to the surface via a rear ejector which can be adjusted to a desired direction depending on the location.
In trials conducted by municipalities in The Netherlands, it has proven not just to deliver labour and cost savings to the task but has proven effective at returning an all-important source of food and nutrients back into the soil. The Leaf Reducer is available with a 1.5m working width, and an adjustable working height to treat areas with both low and higher heights of cut.
The technical team will be on hand to discuss this and other products from the GKB range including the Deep-Clean, for effective cleaning and removal of contaminants from synthetic surfaces and the Deep Tine Aerator (DTA). The DTA is available in four working widths to suit both fine and sports turf surfaces and offers effective compaction relief down to depths of up to 400mm (16"). The DTA features GKB's unique tine mounting system, utilising 'blocks' instead of individual mountings, allowing for more tines per head and reducing downtime when switching between sets.