ISEKI announces five-year partnership with Northampton Saints RFC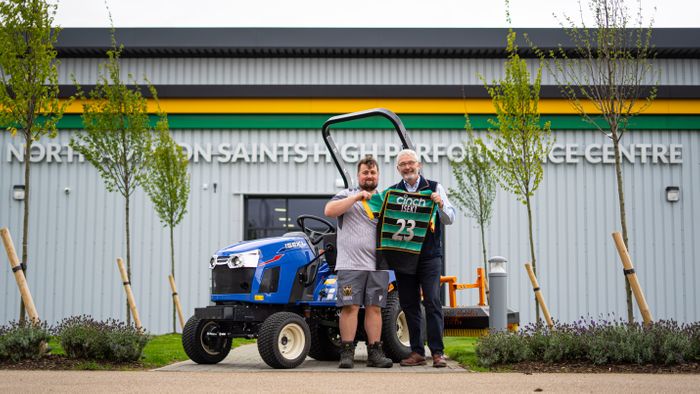 Iseki UK & Ireland is delighted to announce that it has signed a five-year partnership Agreement as Official Turf Care Supplier to Northampton Saints at Franklins Gardens, Northampton.
Under the Agreement Iseki will supply tractors, mowing machines and electric vehicles to the club, for use by the grounds maintenance and stadium teams in their work around the prestigious site.
The Partnership also covers Iseki's range of agricultural machinery, which will be showcased at events such as the annual 'Farmer's Day' at the club.
David Withers, Managing Director of Iseki UK & Ireland said "The opportunity to work with such a respected and long-established club is very exciting for both me and the team at Iseki.
We have historically had a close relationship with England Rugby and now directly supporting one of the top Rugby Premiership clubs offers us the opportunity to use the facilities at Franklins Gardens to showcase our machinery to both existing and prospective customers.
We have supplied Saints with an Iseki TG6687 HST 67hp tractor with loader, which will be used for both on and off pitch work, one of our excellent SXG327 54" ride-on grass collecting mowers and a TXGS24 sub-compact tractor for use on the Centre of Excellence indoor pitches. Other products will be used by the club at various points in the year.
Anthony Shepherd and Simon Tunn from our local dealer, P.A Turney Ltd., were extremely helpful in introducing us to Saints' Head Groundsman, Andy Miller, and the rest of the management team at Franklins Gardens, who share our excitement at being able to work together going forward. We will certainly be making extensive use of the facilities for both match days utilising our box, and for events and meetings at the club in the future".