27 Sep 2023
Lloyds Mowers returns to SALTEX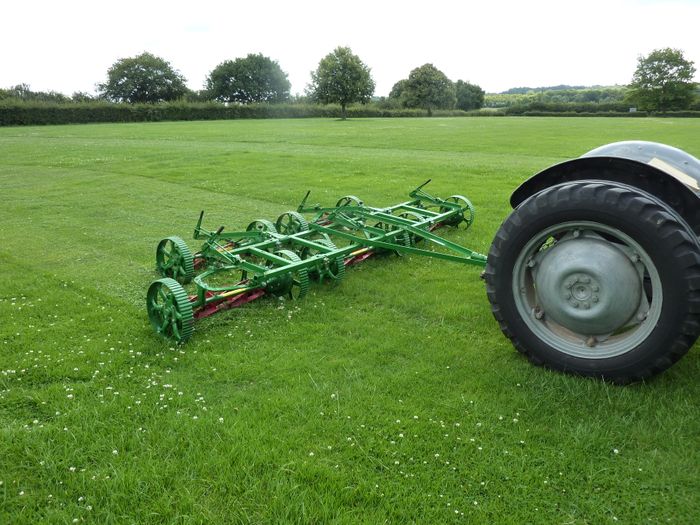 Lloyds Mowers is continuing its long-standing tradition of exhibiting at SALTEX
Lloyds Mowers will be showing its highly regarded Paladin cylinder mower along with the trailed Leda standard and Giant gang mowers at SALTEX 2023.
The Lloyds Paladin is one of the best fine turf pedestrian mowers available and is a fine example of classic British engineering. Available in 21" and 24" width of cut, the Paladin, Paladin Dual and Paladin TG have a choice of various bladed cutting cylinders, ranging from 5,9 or 11, single or dual adjusters and a turf groomer. Lightweight, easy to manoeuvre with an ultra-short wheelbase, the Paladin excels when cutting cricket wickets and squares, bowling greens, golf greens and tees and it is also ideal for maintaining fine lawns.
SALTEX visitors can also expect to see the renowned Leda standard and Giant gang mowers from Lloyds, which are used extensively for wide area mowing. The Leda standard gang mower maintains fine sports surfaces such as sports fields and cricket outfields while the Giant gang mower is ideal for maintaining semi rough and amenity spaces.
The cutting units have a superb through flow of grass and leave a high-quality finish. Both models are available with semi pneumatic or cast wheels and have various multi cylinder options with a choice of 4, 6 or 9 cutting blades.
Featuring a simple and robust build quality, these sharp, well-set gang mowers will perform in dry or wet conditions.
For further information or a no obligation demonstration, please contact Lloyds Mowers on 01332 824 777 or visit www.lloyds-mowers.com.
For more news, reviews and insightful views, you can follow Lloyds Mowers on Twitter, Instagram and LinkedIn @lloydsmowers and like the company's Facebook page – https://www.facebook.com/LloydsMowers/.