Martin Lishman collaborates with Manterra to produce a fully autonomous, unmanned GPS sprayer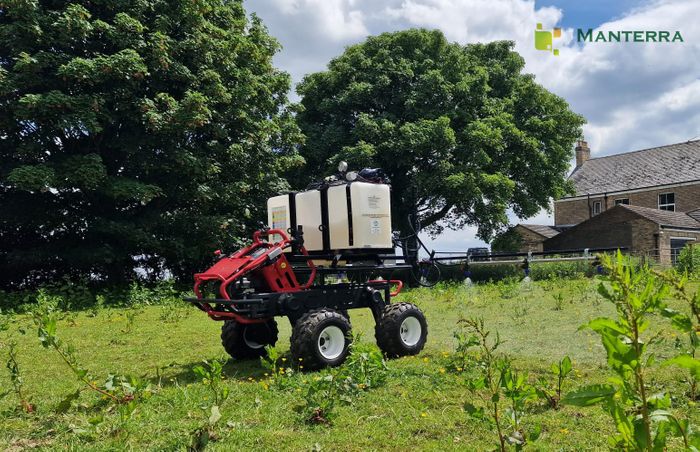 In a world of self-driving tractors, cars and even lawnmowers, the call for the precision and reliability of GPS controlled vehicles is sweeping across all industries.
For compact sprayer manufacturers Martin Lishman Ltd, their venture into the world of autonomous spraying became a reality when they were approached by UK based precision equipment specialist, Manterra Ltd. The plan was to mount a Martin Lishman Mini-Spray 125 litre demount sprayer with 3.5m boom on their XAG R150 fully autonomous utility vehicle and create a go-anywhere unmanned GPS controlled spraying system.
With both Martin Lishman and Manterra having roots in the Agricultural industry, their shared ethos of understanding customer requirements to provide solutions which were not always readily available was a perfect match for this project.
With Martin Lishman's long history of designing and manufacturing compact sprayers, the choice was clear when it came to choosing a sprayer for the project. "We were struggling to find a UK based manufacturer who could fill all our requirements for lead time, quality, specification and value", explains Andrew Manfield, Managing Director of Manterra Ltd. "Martin Lishman were able to fulfil all our requirements regarding these critical aspects, worked closely with us to meet our needs and were always responsive to our requests."
The XAG and Mini-Spray combo provides a robust and versatile ground-based platform, which offers a whole plethora of spraying capabilities at an affordable level. It utilises the Trimble control system to deliver a full suite of variable rate application and targeted application solutions using Trimble Weedseeker sensors.
The use of the unmanned sprayer vehicle brings with it many benefits; the precision aspect means incredibly accurate spraying application and minimising the overuse of chemicals, from a safety perspective operators have greater separation from chemicals when the sprayer is in use and from an environmental point of view, the battery vehicle is quieter and lighter than typical UTV's or tractors, minimising disturbance, and ground pressure.
"One simple but very effective application is using the XAG 'follow me' mode to do spot spraying using the lance attached to the Lishman sprayer", adds Andrew. "As the R150 will follow the operator, stopping and starting automatically at approximately 2 metres away, it is infinitely better than using either a knapsack sprayer or a machine which must constantly be driven forward. Ultimately the applications for the sprayer and XAG platform are only limited by the ingenuity of the operator."
"We jumped at the opportunity to get involved when Manterra approached us", explains Gavin Lishman, Managing Director of Martin Lishman Ltd. "Our sprayers are going from strength to strength each year and we can firmly say that they have taken a strong hold in both the agricultural and amenity industries. Exploring new ideas and driving our product development is one of the reasons we got to where we are, so to be a part of this project was a good fit for us. We've seen GPS driven sprayers before, but never a fully autonomous unmanned sprayer - this could be a world first!"
"Field tests have been run successfully and we have machines in the process of installation with customers. Some of these are educational establishments so it will be interesting to get feedback from the next generation of operators", Andrew Manfield concludes.
To learn more about Manterra Ltd and their range of high-tech products, visit www.manterraltd.co.uk
For more information on Martin Lishman compact sprayers, visit their website at www.martinlishman.com. Sales enquires can be made directly to sales@martinlishman.com