14 Sep 2023
New Log Handling Attachments launched by Ventrac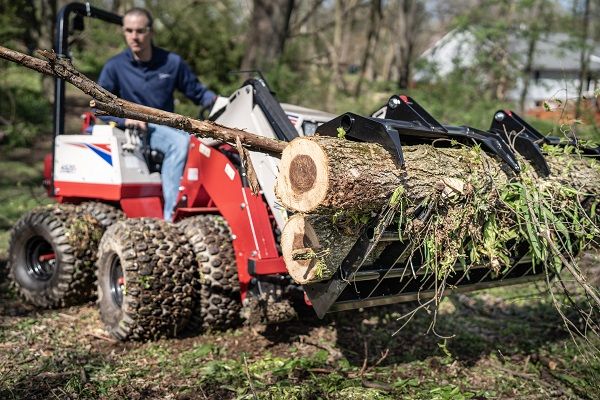 It might not appear to be the obvious choice of forestry equipment, but the deceptively powerful Ventrac 4520 all-terrain compact tractor comes into its own for woodland management. With attachments that include stump grinders, brushcutters, buckets and grapples, there's definitely a place for this versatile machine in an arboreal fleet.
The latest attachments launched by the company are the KM100 Rock Bucket with Grapple and the KM300 Log Grapple. When mounted on the 4520 tractor they create an agile, powerful and surface-friendly mobile unit for woodland management on estates, golf courses, parks, and municipalities.
The KM100 Rock Bucket with Grapple can transport anything from whole logs to loose debris. It will sift large rocks from dirt and surrounding material. The independent top grapples effectively traps odd-shaped materials, grasping the load with multiple clamping points for transport. The open structure offers excellent visibility of the bucket's contents. The Rock Bucket is ideal for removing rocks and tree debris into trailers or shuttling material across complex properties.
The KM300 Log Grapple is a highly manoeuvrable way to transport whole logs. This time-saving capability means less log-cutting and fewer trips in and out of a work area. The log grapple allows users to place logs directly into a chipper or the back of a trailer with ease. In addition, the Log Grapple can secure whole logs, clusters of large branches, and material sized for the wood chipper, further speeding up tree work and job site clean-ups.
These new additions complement the KC220 Stump Grinder, which makes quick work of unwanted stumps and roots. Heavy-duty replaceable carbide cutting teeth on a large 56 cm (22") diameter rotor remove large or small stumps. The cutting action is controlled with the forward and reverse motion using the tractor's hydrostatic drive. The Stump Grinder features offset, out-front operation to provide excellent visibility resulting in better performance and efficiency. The light footprint and manoeuvrability of the Ventrac, with its central pivot and oscillating frame allows the machine to access woodland areas that larger machines cannot reach.
A rotor speed of 1300 rpm provides a fast tip speed which results in significant amounts of material removed with each pass. In addition, with a cutting depth of 20.3 cm (8"), stumps are removed faster than ever. The blade, operated by the hydrostatic hand controls, helps push material away from the working area to uncover portions of the stump that needs to be removed.
Rupert Price, managing director of Price Turfcare, the UK and Ireland distributor for Ventrac said,
"Ventrac is the most versatile groundscare maintenance system available to professionals in the UK. Now with the introduction of these latest attachments for arboreal applications, they have added to the extensive range of front-mounted implements, providing yet more versatility for the owners of a Ventrac compact tractor."
For more information, please contact Price Turfcare on 01284 827540
https://youtu.be/RBbPeyPfFO8