01 Sep 2023
SMG TurfCare series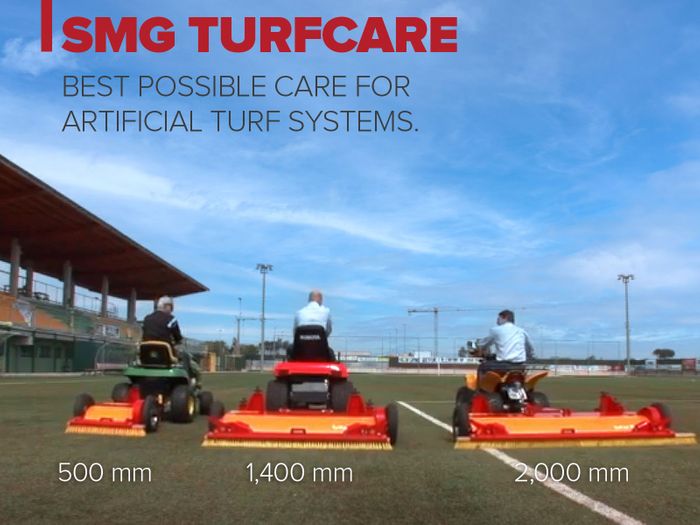 SMG TurfCare series
SMG TurfCare cleans and cares for the surface of all filled and unfilled artificial turf surfaces. Its wheel drive makes it independent of hydraulic or PTO drives. This means that the TCA can be towed by a wide variety of vehicles such as small tractors or even quads.
SMG TurfCare benefits:
cleaning and maintenance of all artificial turf systems including alternative filling materials such as cork
suitable for towing vehicles of all types (quads, small tractors, etc.)
independent of hydraulic/PTO drive
precisely adjustable working depth of the brush roller
the working depth of the spring tines can be adjusted to loosen the infill material
infinitely adjustable vibrating screen (variably adjustable screens for all filling systems) separates dirt from the infill material while at the same time returning the infill material or reducing the discharge of infill material and microplastics
individually adjustable to the degree of soiling/grain size of the bedding material
wheel-driven rotary brush for gently picking up surface dirt
floating squeegee strip for brushing up the artificial turf fibres
optional magnetic strip for picking up metal objects
compact dimensions and fold-out transport wheels for enormous ground clearance
With regular use of the TurfCare, the interval - a basic and deep cleaning that is usually expensive for you - can be significantly extended. Furthermore, the lifespan of the artificial turf is significantly increased.
As a rule, no questions remain unanswered – if they do: ask us, challenge us, we look forward to hearing from you in any case.
https://youtu.be/mQtA6WB43ag