04 Oct 2022
Pitchmark Shines Bright In Qatar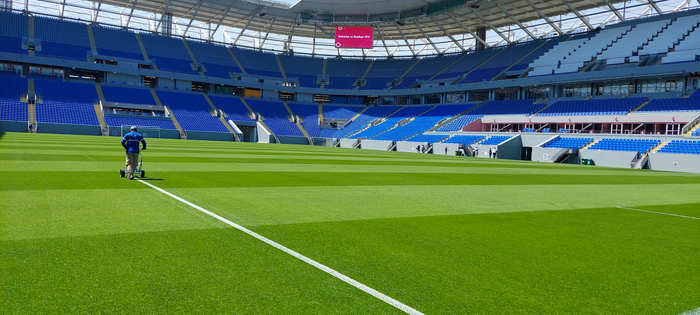 In just under six weeks, Gareth Southgate and his Three Lions will head to Qatar for their next landmark competition, but preparations at their training camp at the Al-Wakrah Sports Complex started much sooner with Pitchmark shining brightest in the Middle East.
Since Pitchmark's inception in 2010, the Bristol-based company have supplied line marking paints, equipment, and machinery to top international stadia like Wembley Stadium and international sporting events. In 2019, Pitchmark was awarded the prestigious Queen's Award for Enterprise: International Trade after demonstrating an exceptional growth record and success overseas - and the past twelve months have been no different.
Pitchmark's Managing Director Tim Rodman and Group Sales Manager Oliver Boys have built strong relationships throughout the Middle East over the past few years, and their recent trip to Qatar focused on tailor-made training and education sessions to suit the unique conditions. Hand-built to the highest standards and proudly bearing the Made in Britain mark, Pitchmark's Classic transfer wheel marker and the innovative three-wheeled Hybrid spray marker were on display at Stadium 974, Khalifa International Stadium and Lusail Stadium, as well as the LineFix System.
Using semi-permanent ground sockets that remain installed in the pitch, LineFix is a unique system developed by the Pitchmark R&D team that has benefitted customers at grassroots and professional stadia by not only increasing accuracy but simplifying the re-marking process. This will allow the grounds staff in Qatar to string out completely accurately every time.
As well as line marking, LineFix can also be used for pattern lines when cutting a pitch. With the different colours of sockets, the grounds staff in Qatar will be able to distinguish which sockets are installed for pitch markings from those installed for pattern lines. As goal-line technology advances, LineFix's accuracy and straightness, combined with millimetre-accurate line width, are essential to match officials when determining whether a ball has crossed the goal line. The precise mowing lines also contribute to improving the new semi-automated offside technology.
As part of Pitchmark's recent visit, the pair also provided grounds staff with free legionnaire hats and water bottles to help them cope with the weather-intensive conditions in Qatar, as well as line marking handbooks for precise pitch measurements.
If you would like to learn more about Pitchmark and its products, you can visit their exclusive UK distributor Turfix at Stand E125 between 2 - 3 November at the NEC, Birmingham for SALTEX 2022.