12 Jul 2023
Proud goal supplier to the FIFA Women's World Cup Australia & New Zealand 2023!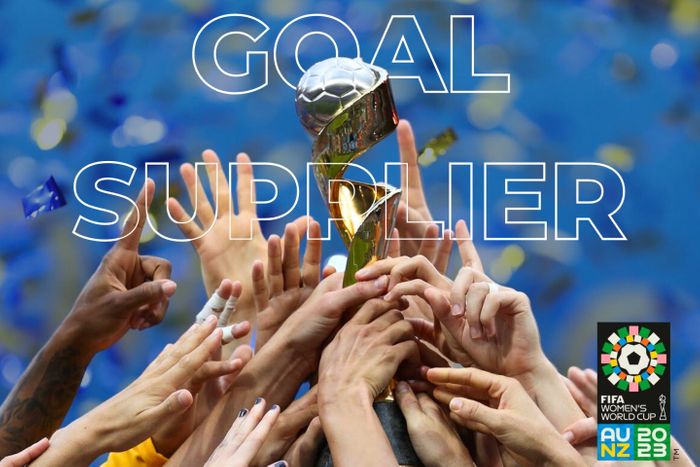 With FIFA announcing that over 1 million tickets have been sold for the FIFA Women's World Cup Australia & New Zealand 2023, making it the highest attended event in the history of women's sport, it's no wonder Harrod Sport are proud to be supporting such a prestigious tournament.
In 2022 the Suffolk based leading sport manufacturer, gained their FIFA approved status for their 4G Stadium PRO Goal Package and went on to supply the UEFA Women's EURO's as well as over 400 goals to the Qatar World Cup 2022. The family run business is now thrilled to be supplying a further 20 sets of their FIFA Quality Goals to all 10 stadiums hosting the FIFA Women's World Cup in Australia and New Zealand.
Upon winning the contract, Sports Sales & Marketing Director Kevin Utton said:
"It's been another great effort by the team to both secure and fulfil another major event contract.
The Women's World Cup in Australia and New Zealand promises to be a truly amazing event. As a company we will be supporting the England team to hopefully secure another amazing result following their success at the 2022 Euros.
Both events featured our Stadium Pro football goals and we will be hoping Sarina Wiegman Lionesses can find the target just as accurately as they did at the Euros. We will certainly celebrate every England Goal that hits the back of the Harrod Sport net"
Shipping to the other side of the world takes copious amounts of organisation and planning, during April 2023 Harrod Sport sent two 40ft containers of equipment to achieve delivery in time for the tournament kick off on the 20th July.
Here's what Managing Director Stephanie Harrod had to say about the event:
"As a female business owner in the sports market for many years, I have been involved in many high sporting level events that our company has been fortunate to win contracts for. However, what has become increasingly poignant in the last 5 years is the ongoing development and admiration of women's sport!
We were incredibly proud to have supplied product to the UEFA Women's Euros 2022 and honoured to have won another contract to supply products to FIFA Women's World Cup hosted by Australia and New Zealand.
These women are inspirational and I hope the development of women's football continues to thrive and get the media attention it deserves."
Harrod Sport are long-time supporters of local women's football, which is highlighted through their ongoing relationship with Norfolk FA, becoming a sponsor of the Harrod Sport Women's Cup and the Harrod Sport Women's and Girls Cup. This partnership has since developed further with Harrod Sport expanding to show support for the female game through sponsorship of the Norfolk Women's County Cup competition. Following this, their Finesse coaching equipment has also been supplied to support its recently launched Coaches Club. These aspects of the agreement will continue and expand further to include the Football Development Centres female-only summer tournament, The FDC Women's & Girls' Cup.
Looking back at the Lionesses triumph against Germany in the 2022 EURO's, it's easy to see why so many believe they can go one step further and become world champions!