27 Jul 2022
Proud Suppliers to the Birmingham 2022 Commonwealth Games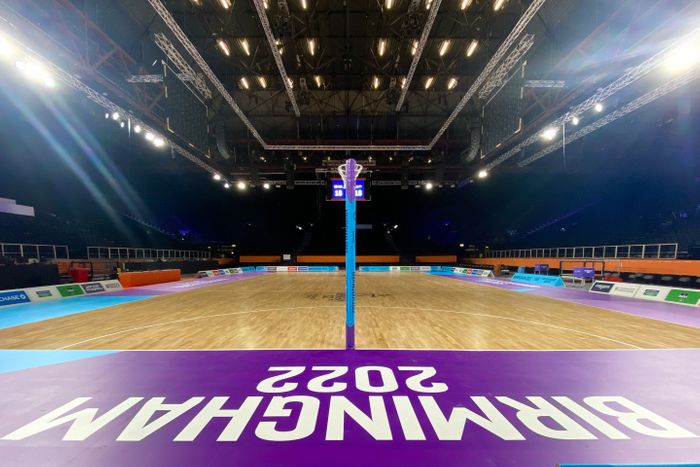 The Birmingham 2022 Commonwealth Games, officially known as the XXII Commonwealth Games, is scheduled to begin tomorrow and run until 8th August 2022 – twenty years after our first Commonwealth, Manchester 2002 and on the tenth anniversary of London 2012 Summer Olympics and Paralympics.
The 22nd Games will see 6,500 athletes competing across 19 sports, with Harrod Sport proudly supplying equipment for Hockey, Netball, and Rugby Sevens. Harrod Sport boasts a proud history of supplying sporting equipment to Commonwealth Games, previously supplying Manchester 2002, Delhi 2010, and Glasgow 2014, and we are delighted to be able to add Birmingham 2022 to the collection.
Based at the University of Birmingham, we have our FIH Approved pitch equipment showcased, with our FIH Quality Hockey Goal Class 1 Integral Weighted Hockey Goal on the main stage, in the eye-catching pink design. Alongside the goals, we have supplied and installed two Elite Technical Team Shelters, uniquely manufactured to allow access to any power required for the technical support team at the Games. See our hockey goal range here.
In addition to Hockey Goals and Technical Shelters, we have also supplied our Premier Curved Team Shelters, Stick Bag Trollies, Sin Bin Seats, Hockey Official's Measure Kit, Pitch Divider Pads, Corner Poles & Bases c/w Bespoke Birmingham 2022 Flags.
Standing tall at the NEC Arena are our International Netball Posts, covered by the Birmingham 2022 blue and purple bespoke designed Netball Post Protectors. The 32,500 seated Coventry Stadium, hosting the Rugby Sevens, will show off our 17m Millennium Aluminium Rugby Posts, with equipment also supplied to both Univeristy of Warwick and Wyndley Leisure Centre training venues.
As a company that prides itself on UK manufacturing, specialising in quality and innovative products, Harrod Sport is incredibly proud to continue offering sports equipment at the highest possible stages. We would like to say a big thank you to our whole team, from manufacturing to assembling, none of this could be achieved without them. Bring on the games!