SGL launches LED50: a compact and accessible LED grow lighting system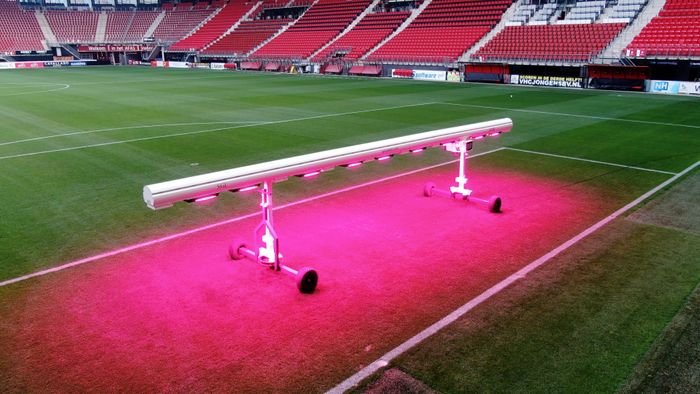 With sustainability high on the global agenda, SGL launches another energy efficient LED lighting unit to add to the existing range of LED lighting systems. Now, a compact and accessible lighting unit, with all the benefits of LED technology, becomes available: the LED50.
The introduction of the accessibly priced LED50 enables sports clubs, competing on various playing levels, to integrate LED technology into their pitch management strategy and benefit from perfect grass growing circumstances in a sustainable way.
Covering a 50 square meter surface, the LED50 is well suited for high wear areas, such as goal mouths and corner areas. The lightweight unit is easy to operate and deploy by a single person. For the most efficient operation, the LED50 has built in temperature sensors constantly measuring grass temperature. The integrated Smart Control System ensures that only the exact amount of infrared heat is added to reach the desired temperature. This enables a perfect growing environment in all climates and significant savings.
Over the years, SGL's agronomy team has optimized the growth algorithm, which determines the light and temperature requirements for every individual pitch and reduces energy waste, creating the ideal grass growth climate in a sustainable way. The independent control of light and temperature enables grounds managers to start the lighting season earlier and reach quality grass growth sooner in the run-up to the new club competition, while simultaneously increasing energy savings.
The LED50 uses a light spectrum consisting of the most effective and energy efficient red to blue light ratio for optimal grass growth. This light spectrum is the result of extensive testing at our customers and the SGL Research & Innovation Centre and is known to deliver superior grass growth quality and cost savings.
The LED50 is the most affordable LED lighting unit in its kind, making LED technology more accessible than ever. The LED50 is now ready for order and is offered with an introduction discount for orders placed in 2022.
https://youtu.be/7g1djZ-VHfs