Timberwolf Launches Industry First Solution - TW 280HB HYBRID Wood Chipper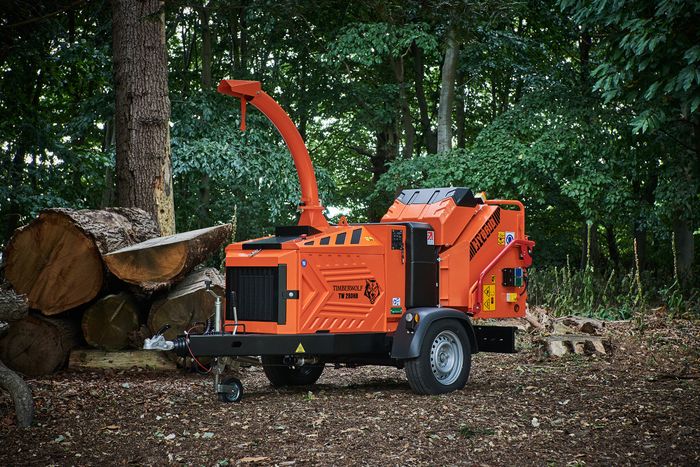 Developed to meet the growing industry trend towards more sustainable solutions, with processing throughput of over 7 tonnes/hr, the TW 280HB HYBRID offers class leading peak power of 62hp but with Kubota Super Mini Series engine levels of emissions - ideal for the most challenging of jobs.
Simple to maintain, the TW 280HB HYBRID wood chipper is ideal for companies and organisations who are committed to minimising their emissions without compromising on performance.
Power Versus Emissions – The Challenge
Delivering power suitable for an 8" wood chipper whilst also minimising emissions is a challenge. Historically, when looking to meet the needs of arborists, design engineers typically dialled up engine power, naturally increasing engine emission levels.
After extensive research of hybrid powertrains and following discussions with engine manufacturers, it was concluded that no commercially available solution was currently available. Our journey, therefore, began with the decision for Timberwolf to lead its own hybrid powertrain development programme to meet the dual challenge of addressing performance and emissions.
In the year Kubota celebrates its 100th year anniversary, the Timberwolf Engineering team placed the 24.8hp (18.5kW) Kubota D902-TE4 turbo diesel engine at the heart of their hybrid design. This Super Mini Series powerhouse was chosen not only for its outstanding Kubota pedigree, but also its high RPM and outstanding applied torque - ideal for the Timberwolf chipping methodology.
Supplementing engine generated power is a power-dense hybrid system. Integral to this system is an Inmotion Generator Synchronous Motor (GSM) and energy efficient SECH supercapacitors. Providing swift recharge capability, in contrast to Li-ion battery solutions, supercapacitors store and release energy quickly coping with the variable duty cycle of the arborist's job. This is integrated in a self-supported system that does not need external charging to operate. As the arborist's working environment is always variable and the work schedule often long, the TW 280HB HYBRID will perform throughout the day, every day.
With a processing throughput of over 7 tonnes/hr, the TW 280HB HYBRID powertrain, exceeds the objectives set out by the business and our target stakeholders; to provide class leading 62hp peak power but with emissions at the level of a Kubota 24.8hp engine.
Easy Ownership Built In
Timberwolf wood chippers are renowned for their reliability and simplicity. It was essential therefore, that the TW 280HB HYBRID met this same user and servicing expectation.
Hybrid technologies often provide a more reliable and low maintenance solution than their full engine counterparts. With maintenance-free supercapacitors and GSM, the TW 280HB HYBRID is no exception.
Through evaluation activities held during the development process, users have found this latest Timberwolf wood chipper reassuringly familiar. With only a small number of simple daily checks and regular greasing required to keep this machine operating at peak performance, maintenance has been kept to a minimum. Additional features to assist operators also include enhanced operator diagnostics for easy troubleshooting.
Users will also be reassured to know that the TW 280HB HYBRID will be provided with the Timberwolf
3-year warranty as standard.
"Taking existing technologies to develop an industry first solution has been a very exciting innovation and development project," said Chris Perry, Timberwolf Managing Director.
"The team have excelled in identifying and delivering an outstanding technical solution to meet this increasingly important market need. For over 35 years, the Timberwolf brand has been synonymous with wood chippers and now, as we launch the TW 280HB HYBRID, we demonstrate our commitment to use the strength of our technical expertise to meet the sustainability challenges of the future."
Timberwolf will be showcasing the TW 280HB HYBRID at SALTEX, visit us on stand H085.
To find out more about the TW 280HB HYBRID, please visit our website: www.timberwolf-uk.com/hybrid
https://www.youtube.com/watch?v=vTXEKq8qlcw