Cliplift PRO - hydraulic lift - 800 kg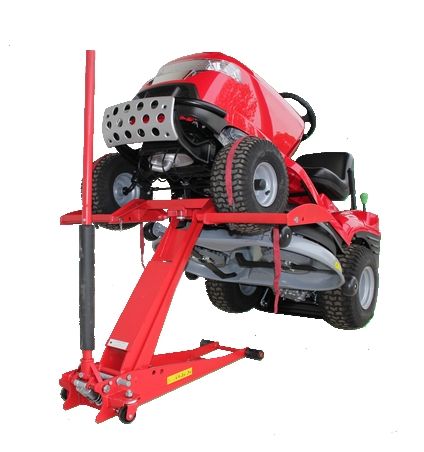 The CLIPLIFT PRO is a revolutionary tool, designed for nature professionals and Town halls. It is perfect for blade sharpening / substitution or all others riding lawn mowers maintenance tasks. It can welcome tractors mowers and zero turns that do not exceed 800 kg / 1800 Lb. The lifting arm is adjustable, from 115 to 135 cm /45 to 53 in (outside front wheels measurement).
Easy and effortless
With the double hydraulic jack pump, the lifting is fast and easy. The CLIPLIFT PRO can be moved easily thanks to its 4 wheels and must be used on a stable and flat surface.
Double security
The straps supplied will secure the tractors front wheels into the CLIPLIFT PRO's brackets. The locking pin provides an added safety while you clean the lawnmowers.
Double utility
This tool has a double utility because the lifting arm can be removed and replacedby a bearing plate and can be used as a jack (500 kg / 1100 lbs max).