Micro-Spray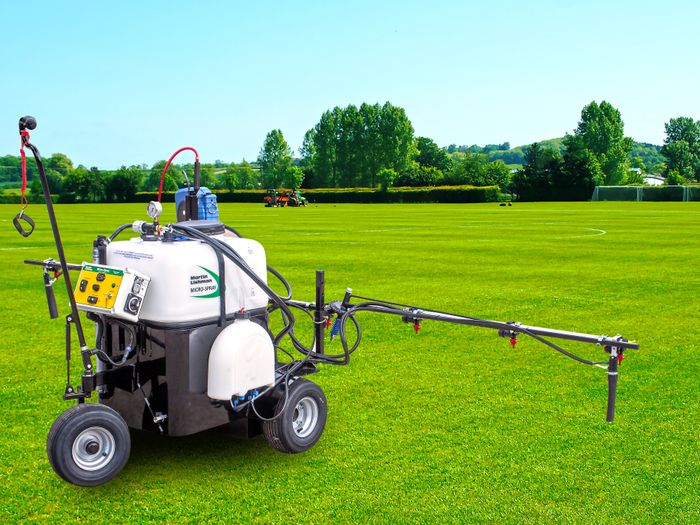 Combining control and power with responsive easy handling, the Martin Lishman Micro-Spray pedestrian sprayer is designed for all types of sports grounds, golf courses and landscaping work.
The Micro-Spray now comes with an upgraded specification, making it more versatile in a wider range of situations. The Micro-Spray has a narrow footprint so it can fit through most gateways and passageways to tackle hard-to-reach spraying areas.
Teamed with smooth tyres and a single front steering wheel, this ensures a low ground pressure footprint to keep tyre marks on turf as minimal as possible, while still retaining the manoeuvrability and stability needed to tackle rough terrain.
A newly designed ergonomic steering handle provides a simple trigger throttle system and spray on/off buttons for precise fingertip control of spraying. The addition of an emergency stop wrist lanyard improves safety should the operator become separated from the sprayer. Parts of the control system are designed to meet the latest machinery directives, making them suitable for use by local authorities and in public places.
The easy to use control box gives the operator more control over the sprayer with changeable motor direction to either walk behind or in front of the sprayer, 12 motor speeds, bout marker selection and a battery level indicator. Spray application rates, operating speed and the pump pressure can be accurately and quickly controlled by the operator.
Accurate control and spraying power in a lightweight package to prevent compaction and turf damage were at the forefront of the Micro-Spray's design. At the heart of the Micro-Spray is a seriously strong powder coated steel chassis, driven by an advanced rear wheel drive system and speed controller. 2 large deep cycle batteries mounted on the floor of the chassis help maintain a low centre of gravity and weight balance to keep equal traction on all 3 wheels. The UV-safe 120 litre tank feeds the 23 litre/min pump which can accommodate 2.5 to 3.5m boom widths and a wide range of application rates. Easy to reach controls enable the operator to quickly adjust sprayer settings in an effort to increase productivity. When it comes to sprayer design, it does not get much better than the Micro-Spray.