19 Jul 2022
Advanced Turf Technology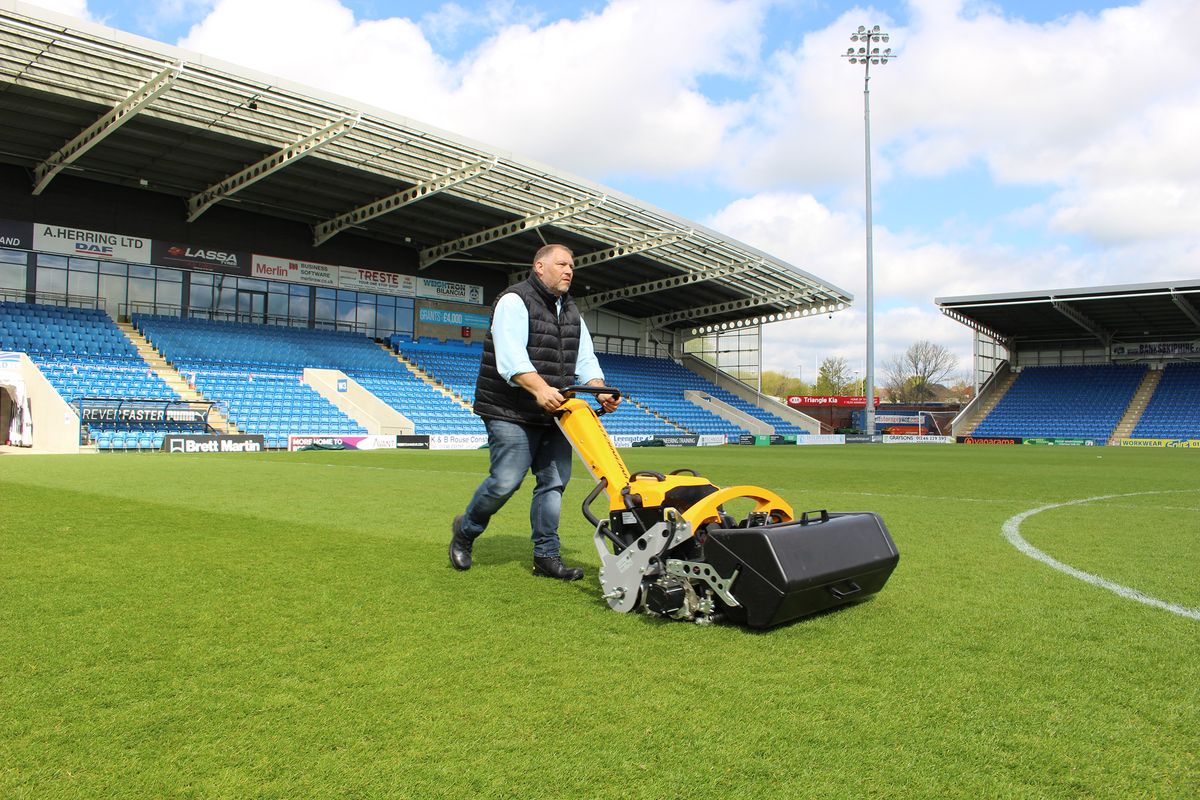 Advanced Turf Technology was established 20 years ago and is the proud manufacturer of the TMSystem – a range of cassettes for turf grooming, mowing and maintenance - and the Infinicut, battery-powered pedestrian cylinder and rotary mowers.
The company was the first to bring dedicated Lithium battery powered pedestrian machinery into several markets, and now with the addition of Bluetooth wireless technology, is making some of the most advanced machinery available for turf managers today.
As a company whose very success is led by meeting with and discussing product development with the end users, Advanced Turf Technology is back at SALTEX 2022, the exhibition it credits with showcasing the best of the groundcare industry working together.
Visit Advanced Turf Technology during SALTEX at Stand H070.
Here sales manager Vinny Tarbox speaks to us about the business, the industry and what visitors can expect from the show this year.
How has the industry changed/evolved?
The industry is moving at a much faster pace these days, with an emphasis on precision, technology, and environmental awareness. Products are expected and required to be more efficient and perform at a higher standard than ever before. Facilities also recognise the They need to be responsible both in operation with things such as reduced HAVs and noise, which has driven a lot of development from us as manufacturers. It is also evident that running costs as well as longevity of components are important factors now considered when decision making.
What are the biggest factors affecting the industry today?
Recruitment and retention of experienced staff seems to be a problem throughout the industry, which could be improved if recognition for the work that grounds professionals do was better. A head grounds person these days is part scientist, project manager, budget holder, mechanic and many other things – not just a person who cuts grass! There's little awareness of the sheer scope of work they do outside of the industry, and in some cases even within some organisations who employ these professionals, and that needs to change.
What are the main considerations and factors influencing purchasing decisions?
Price, product reliability, ease of use and operator comfort all rank, alongside cost of ownership and easy servicing/maintenance. Having said that, precision to do the job well is top – the machine's ability to reach the millimetre of accuracy needed to deliver the exacting standards demanded is vital.
What don't most people realise about you or your company?
That we are based in Sheffield in the UK and make everything, including our cutting reels, in-house on one factory site.
What are you looking forward to at SALTEX this year?
Exhibitions and shows form a vital part of our annual plans and give us the chance to interact with everyone within the industry. What we've seen in the last couple of years is that ours is still very much a people-orientated industry, and any chance to meet and catch-up face to face is positive. SALTEX always has great attendance and is increasingly recognised for its learning opportunities. It's been a fixture on our calendar for some time and, for us, is considered a 'must-attend' event. With the return of the awards again this year, we are very much looking forward to reconnecting with everyone and celebrating the industry's achievements in a positive way.
What can we expect from Advanced Turf Technology at SALTEX?
We'll have equipment from both the Infinicut and TMSystem ranges, demonstrating what we can offer for surface management across all sports. We're always innovating and are never afraid to try new ideas. Because we have several 3D printers in our factory and advanced production techniques, we can move quickly taking an idea, making it in our factory and then testing a working protype on a pitch within next to no time. That means we never quite know exactly which products will be at the show until a lot closer to the time! From new machines to bike challenges and fun things like sunglasses to give away, there is always something happening when we go to SALTEX.
Is sustainability an issue for you and if so, what are you doing to address this?
Sustainability is very important to us as leaders of battery-powered technology. We work very hard to be responsible in all areas of our operation and are taking positive steps such as purchasing electric or hybrid vehicles and reducing the use of chemicals alongside other objectives.
---