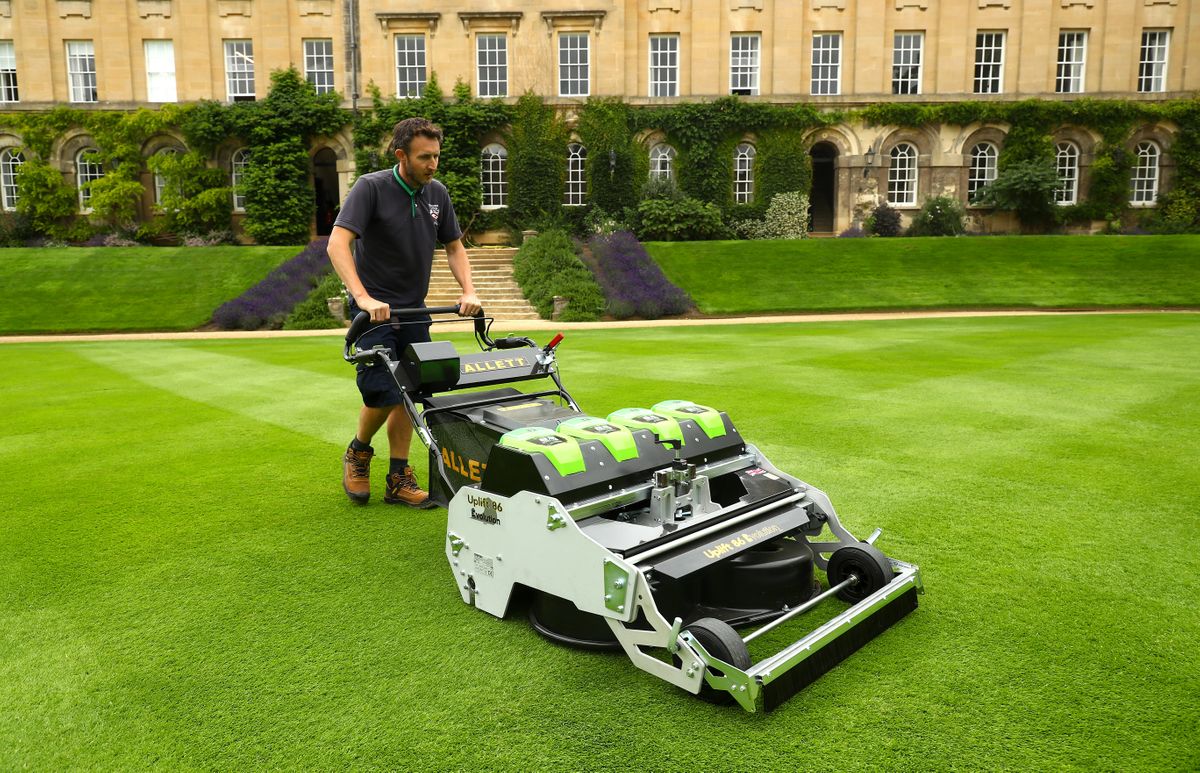 Allett is a wholly British-owned company which for over 50 years has specialised in the design and manufacture of precision, single-cylinder, walk-behind lawn mowers.
Visit Allett during SALTEX at Stand K009.
Here we speak to Laura Malkin, digital media executive at Allett about exhibiting at SALTEX 2022 and what makes it such a special event.
What don't most people realise about the company?
We think a lot of people think our mowers and parts are made abroad like most other brands, however Allett products are all designed and manufactured right here in Hixon, UK which we are super proud about. We mainly use British sourced parts from companies that are local to us to keep our carbon footprint down. Our homeowner models are powder coated just 1.3 miles away in the same village!
What are your best-selling products and why are they so popular?
Over the last couple of years our homeowner and professional battery mower sales have gone through the roof. Our customers are realising the environmental benefits of switching to battery power as well as the user benefits such as low noise levels, no emissions to breathe in and low hand arm vibrations. Other benefits include not having to store petrol, no risk of spillage on lawns and pitches as well as the general cost of fuel. We currently have a 27'' and 34'' battery powered cylinder mower and a 34'' battery powered rotary mower which the majority of clubs are now choosing over the equivalent petrol products. These mowers have additional features over the petrol products such as the half speed reduction button (patented) and the easy click height of cut change requiring no tools.
How has the industry changed/evolved?
You have only got to look at football pitches nowadays compared to years ago to see how the industry has changed. Science plays a huge part in groundsmanship nowadays. No longer are groundsmen and women just 'grasscutters'. Pitches are treated like the grounds teams babies being fed and watered. Nutrition plays a big part now and soil is analysed as well as leaf-tissue to work out what the grass requires to be healthy. In football, pitches are tested regularly to look at the hardness and the interaction of the players' boots to the surface and the ball bounce. In cricket, testing is done to ensure the pitch hardness and grass length offer the perfect conditions for top quality cricket. We recently shot a series of videos with Edgbaston head groundsman Gary Barwell on what's involved in preparing wickets as well as the square and outfield at Edgbaston. It was fascinating to hear what goes into it during a calendar year.
There are many factors that can be looked into for example how certain temperatures affect grass growth, how many times a week is the optimum number for cutting a pitch etc. Training grounds in football for example are prepared exactly the same as the main stadium pitch so players get used to the same conditions. Pitches nowadays are also multi-use for example there may be football on a Saturday and rugby on a Sunday so this is added pressure on the grounds teams.
What are the biggest factors affecting the industry today?
We think coronavirus has had a big effect on clubs' budgets which have tightened dramatically. This may further be affected going forward with the rising costs of energy etc. One of the biggest issues currently is the lack of young groundsmen and women especially at the grassroots level. It is important that groundsmanship is an attractive industry for young people to want to work in in terms of salaries and working hours etc. Days can be long with anti-social hours however this can be worked around with a bit of planning!
What are you looking forward to at SALTEX this year?
We love attending SALTEX and seeing current and new customers. We really enjoyed the Eco Village slot last year where we could pass on some of our knowledge to the visitors about battery power and sustainability. We are more than just a mower manufacturer – we enjoy educating our customers and giving them the knowledge they need to create perfect lawns and sports fields.
What can we expect from you at SALTEX?
You will have to wait and see! We are hoping to have an ECO village slot again.
What products are you bringing to SALTEX – are there any launches happening? Top secret I'm afraid! We will hopefully be taking our battery powered products again this year.
Is sustainability an issue for you and if so, what are you doing to address these requirements?
Yes, it is! We have taken steps to improve our sustainability in our factory using energy made from renewable sources. We recycle food packaging etc as well as cardboard in the factory. We no longer produce product brochures so we can cut down on paper. We are hugely passionate about stopping the production of petrol-powered products by 2025 however we will let our customers choose (over 60% of our demonstrations are now for battery powered products). We source our materials from companies as local to us as possible to reduce our carbon footprint.
How would you describe SALTEX in 20 words?
Saltex is a must-attend event for everybody involved in the grounds-care industry. It's a great opportunity to meet industry colleagues and for networking as well as being an educational event for learning about new innovations.