05 Oct 2022
Bernhard and Company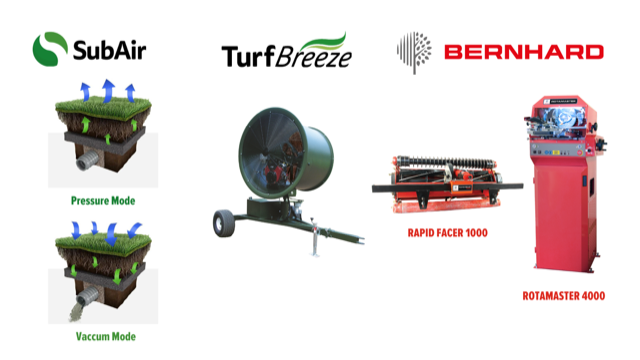 Bernhard and Company are leaders in sports turf technologies, we are committed to supplying the world's best grinding machines and turf care solutions to golf courses and sports facilities around the globe. Our product portfolio allows customers to deliver the best possible cut with simplicity, efficiency, and accuracy.
Visit Bernhard and Company during SALTEX at Stand E026.
Steven Nixon – Managing Director explains more:
What don't most people realise about the company?
In addition to our blade sharpening systems, we advise, deliver, and install surface air movement and moisture control solutions to sports facilities throughout Europe, the Middle East, and Northern Africa.

What are your best-selling products and why are they so popular?
All customers' expectations are high, and our products are built to reflect that. We go above and beyond in all areas from design through to production, with customer service being at the very core of our business.

How has the industry changed/evolved?
Things have improved since the end of lockdown, having the opportunity to do on-site visits and meet people face-to-face gives us the opportunity to listen to concerns and opportunities.
What are the biggest factors affecting the industry today?
The increase in cost of running business, fuel costs, staff retention.

What are you looking forward to at SALTEX this year?
We are looking forward to presenting at the Learning LIVE session in Theatre 3 on Wednesday 2 November at 10.45 – 11.15am. Steve Wilson will be presenting Why subsurface ventilation matters - How healthy turf is more important to an athletes' health than you might think. We will also be booking in demonstrations with Steve Wilson on stand E026 to have a close-up demo of the SubAir system.

What can we expect from you at SALTEX?
We have changed the product profile this year – we will be showcasing the SubAir system at the show, to find out more about please do visit stand E026 and don't forget to book in your demo slot.
What products are you bringing to SALTEX – are there any launches happening?
We will be showcasing the following products on our stand (E026):
SubAir – is the world's leading subsurface aeration and moisture management solution, designed to moderate and control environmental subsoil conditions.
TurfBreeze – is the leading global name in sports surface aeration, TurfBreeze fans generate essential surface air movement to create high quality playing surfaces.
RotaMaster 4000 – ensures both ends of the rotary blade are sharpened with automated precision. It delivers a superior edge with consistent balance for a better-quality cut. The result is longer lasting blades and better-looking grass.
Express Relief - working in combination with the Express Dual range, the Express Relief is a fast, compact, and cost-effective solution for adding relief to reels.

Is sustainability an issue for you and if so, what are you doing to address these requirements?
Bernhard and Company Ltd have a strong connection with sustainability and the impact on the environment. We believe by using precision sharpening to cut your turf you reduce the need for chemicals and maintenance overall.

How would you describe SALTEX in 20 words?
SALTEX is a must attend show for all things turf management and maintenance related, with experts and education from the industry for the industry!