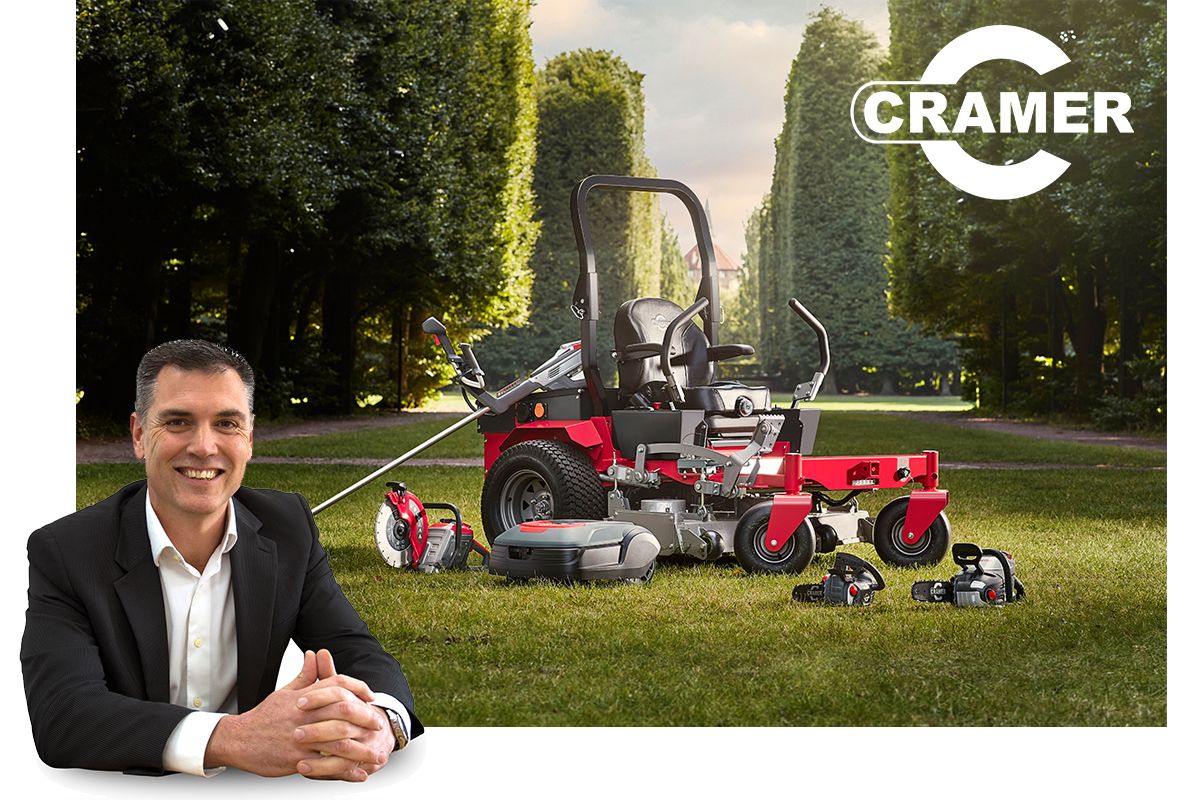 Mark Moseley, Sales & Marketing Director, shares insights into commercial tools brand Cramer.
Visit Cramer Tools during SALTEX at Stand E045.
What don't most people realise about the company?
Cramer Tools is the commercial cordless brand proposition from Globe Tools, one of the world's largest manufacturers of cordless equipment. With over 20,000 batteries and 30,000 motors produced each day by its experienced 6,000 employees.
Featuring ground-breaking technology, the powerful Cramer 82V battery system offers market-leading performance. The modular concept enables the use of an 82V battery pack in all Cramer products, including lawnmowers, chainsaws, pole saws, hedge trimmers, leaf blowers, and power cutters
The UK Cramer business is serviced by a dedicated team in Swindon by Handy and provides full support including in-store displays, demonstrations, sales support, and aftersales spare parts backup.
What are your best-selling products and why are they so popular?
Our new top handle chainsaw is very popular at the moment. The 82V chainsaw is extremely lightweight – weighing only 2.1 kg – but still has exceptional performance and power thanks to the 1.5 kW brushless motor and 1 Nm torque. It is the lightest product on the market with the best power-to-weight ratio. Its power output is comparable to 35 cc petrol appliances.
How has the industry changed/evolved?
In the past, we have traditionally seen petrol-powered garden equipment as the only option for ground care and maintenance of large parks and recreational areas. That's because battery-powered garden equipment hasn't met the high requirements they need, until now. Cramer's powerful 82V battery system delivers all the power you demand from commercial equipment without the negative effects that come with petrol-powered tools.
What are the biggest factors affecting the industry today?
Reducing carbon emissions is a key factor in the industry. Power tools used in grounds care and garden maintenance can play a role in reducing carbon emissions and contribute to improving air quality in playgrounds, parks, and other green spaces.
Cramer battery technology ensures that gardeners, landscapers, and non-professional users can work safely, with no direct emissions of carbon or high-frequency noise. The ergonomic product design and lightweight structure make handling easy in any situation. And finally, devices fitted with the high-performance battery are much more cost-efficient in terms of operation and maintenance compared to conventional, fuel-powered devices.
What are you looking forward to at SALTEX this year?
SALTEX is always an excellent opportunity for us to see our customers, make new ones, and stay updated on what's going on in the industry.
What can we expect from you at SALTEX?
It's an exciting time for us at Cramer, we're really looking forward to showcasing Cramer's new range and its capabilities! We are especially excited to showcase our brand new 82V Zero Turn mower built for commercial use. This product will be a real showstopper due to its 4 hectares cutting capacity per charge (5 hours of mowing) and its robust ergonomic design.
What products are you bringing to SALTEX – are there any launches happening?
At this year's Saltex, Cramer will feature over 30 cordless professional outdoor power equipment tools, including chainsaws, blowers, hedge trimmers, grass trimmers, brush cutters, multi-tools, and power cutters. Walk behind products include utility carts, lawnmowers up to 61cm (twin blade) and the new Zero Turn ride-on mower launch.
How would you describe SALTEX in 20 words?
SALTEX is for leading grounds professionals, suppliers, and manufacturers. This event provides a chance to get up to date on current issues and learn about emerging innovations.