30 Sep 2022
Grasshopper Mowers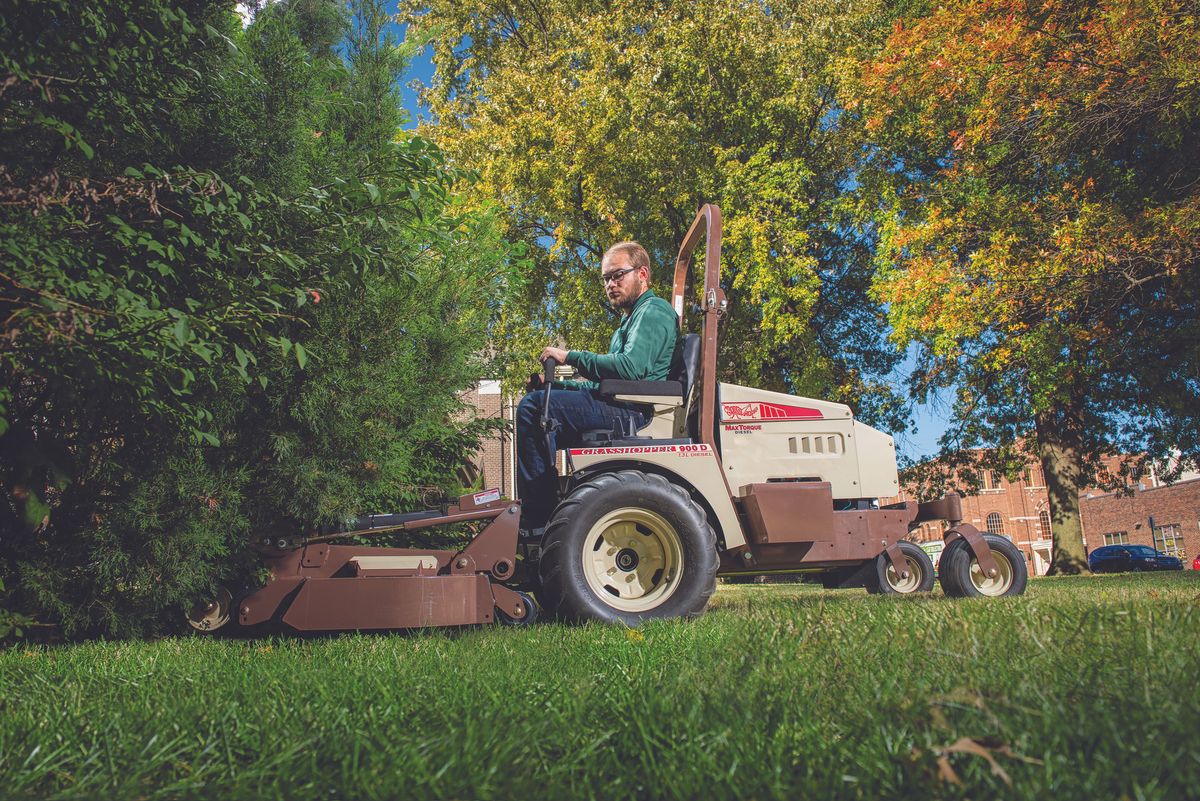 Grasshopper Mowers known for its development of the dual swing-out lever steering is looking to reconnect with partners and customers post-Covid and helping new customers realise the Grasshopper Advantage.
Visit Grasshopper Mowers during SALTEX at Stand M095.
Here Trent Guyer, VP Marketing at Grasshopper Mowers tells us more about the company.
What don't most people realise about the company?
Grasshopper is a family-owned company deep into its third generation of hands-on daily involvement.
It developed the dual swing-out lever steering over 50 years ago that is used on nearly all zero turn mowers today. A Grasshopper FrontMount tractor is compatible to power a multitude of implements to make the machine available for year-round use.
What are your best-selling products and why are they so popular?
The diesel-powered range packs an incredible amount of torque in a small-frame unit in which many brands have struggled to maintain viability. Grasshopper SmartFrame™ and AntiVibe Power Platform® technology are key to harnessing diesel power and channeling it to the mower and implement drive in commercial and large-acreage applications.
How has the industry changed/evolved?
Horsepower has continued to increase.
Many brands have merged or been purchased, including those family-owned companies that at one time may have been more nimble to make changes.
What are the biggest factors affecting the industry today?
Supply chain shortages have plagued the industry like just about any other. We are hopeful there is light at the end of that tunnel.
What are you looking forward to at SALTEX this year?
Continuing to reconnect with partners and customers post-Covid and helping new customers realise the Grasshopper Advantage.
What can we expect from you at SALTEX?
A stand that represents the most popular products we offer, plus the opportunity to speak with factory representatives from the U.S. as well as with the importer/distributor for the U.K.
Is sustainability an issue for you and if so, what are you doing to address these requirements?
Fuel-injected diesel engines save nearly 3,000 litres of fuel over 1,000 hours of use, and reduce fuel costs by over £4,100 over three years by selecting a Grasshopper MaxTorque™ diesel model.
MaxTorque™ diesel mowers can provide more than £21,000 in additional revenue potential versus alternative fuel choices. Fuel savings plus additional revenue potential with a MaxTorque™ diesel mower can add more than £8,200 to the bottom line every year.
Cleaner fuel processing and engine technologies have put Clean Diesel on par with or superior to other commercially viable fuels today. MaxTorque™ diesel engines emit lower levels of carbon monoxide and certain greenhouse gases than LP or gasoline engines.
MaxTorque™ diesel models can complete demanding mowing jobs up to 50% faster than like-powered LP models. Using diesel fuel eliminates the worry about the effects of ethanol in gasoline-powered equipment.
A huge advantage with Clean Diesel is the availability of diesel fuel at most service stations versus the special handling and certification requirements of filling LP or CNG. Diesel fuel is high on power – over 50% more power than LP per gasoline gallon equivalent (GGE).
How would you describe SALTEX in 20 words?
Attendees can maximize their opportunity to see many great products for the industry in two efficient days.