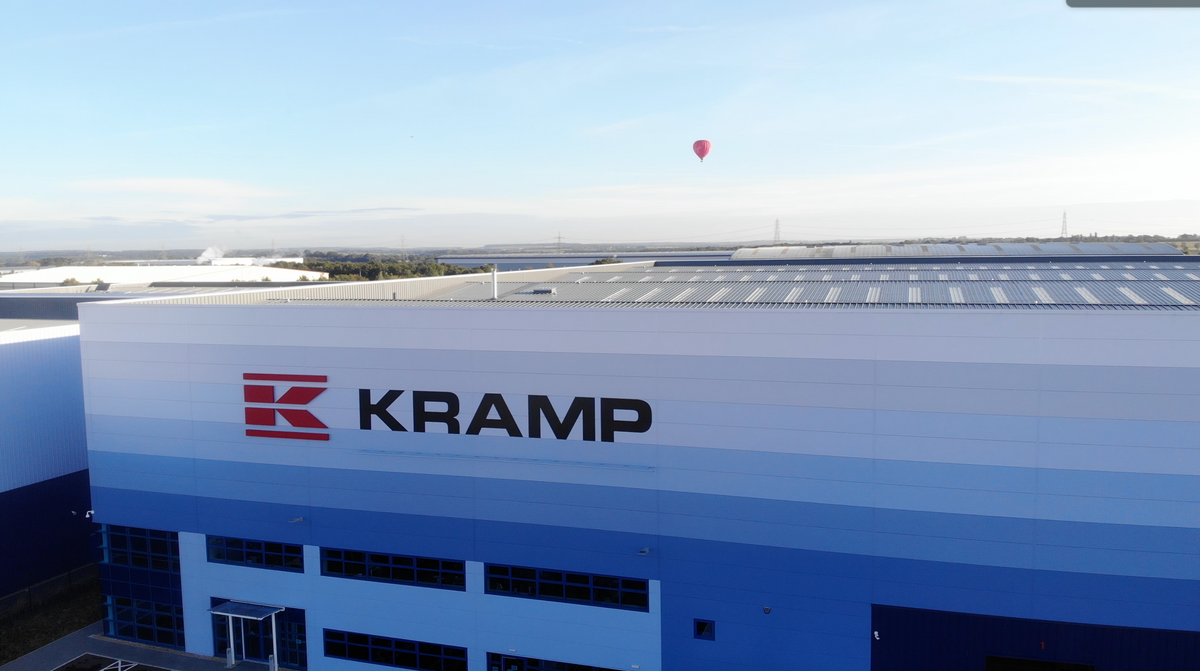 Making its debut at SALTEX 2022 is Kramp. With over 50,000 products specifically catered towards the forest and grasscare industries, this is a fantastic opportunity for visitors in those sectors to meet and learn from this forward-thinking company.
Visit Kramp during SALTEX at Stand H190.
Here, Neil Benbow, UK field sales manager, introduces the company and tell us what they'll be bringing to SALTEX for their first time exhibiting.
What don't most people realise about the company?
We've been working with agricultural dealers all over the UK and Ireland for over 70 years now, supporting them with our range of over 500,000 spare parts and accessories. What people don't realise is that we have a really solid range for forest and grasscare machinery and accessories too. With over 50,000 products specifically catered towards the Forest and Grasscare industries, we're excited to tell people from these industries about what we have to offer them.
We are an approved distributor for several major brands for the lawn-and-garden market including B&S, Kawasaki, Etesia, NGK, SIP Clothing, Kohler, Lombardini). Other brands available: Stiga, Castel-Garden, Zama, Walbro, MTD, Solo, Honda + many others.
What are your best-selling products and why are they so popular?
Our best-selling products are:
Kramp LED Lighting
Filters
Fixings
Kramp branded Paint
Our customers especially love the quality of Kramp LED lighting and Kramp Paint.
However, specifically for this industry our best-selling products are:
Kramp branded oil and lubricants
Briggs and Stratton parts
Etesia parts
Stiga parts
Kramp branded Batteries
Mower blades
Nylon Line
Wheels, tyres & tubes
How has the industry changed/evolved?
We've noticed that customer demands are rapidly evolving. Customers want the best and rightly so, which is why we're constantly adapting our webshop to customer needs, looking for the fastest and safest delivery options, and making sure we're on top of the latest innovations, for example our Kramp App.
We're also finding that distribution and access to spare parts has changed to meet the needs of the customer. Smaller 'daily orders' are more common now, with less interest in the financial commitment of an annual stock order.
What are the biggest factors affecting the industry today?
We find that product availability and maintaining a fair price level are hugely influential in how any supplier is seen.
It's no secret that between the pandemic, Brexit and climate changes that costs are becoming a challenge. The cost of raw materials, transport, fuel, packaging and more have all rocketed, leaving all parts of the supply chain with a little less than they had previously. However, we also know that agriculture and landscaping feature some of the most resilient businesses and individuals out there and we're proud to be supporting them however we can, whilst keeping our focus on having great product availability, at a fair price.
What are you looking forward to at SALTEX this year?
We've not experienced SALTEX before as exhibitors so we're thrilled to be there for the very first time! We're looking forward to meeting lots of different people, learning from other exhibitors and most of all learning from all the attendees about the best ways to support them!
We are excited to tell the dealer network about the great products, concepts and services available from Kramp.
What can we expect from you at SALTEX?
Our stand will be manned by our wonderful and knowledgeable account managers, product specialists and business consultants. Come and speak to us about:
For dealers:
Growing your business – at Kramp we believe in supporting our dealers with an excellent range and great distribution model, all at fair prices. If you're interested in becoming a dealer, come and chat to us!
Improving your efficiencies – at Kramp we know that time is money. If you'd like to know how to make your parts sales more profitable and workshop area more efficient, we can talk to you about workshop racking, barcode scanning, EDI and more!
Our Kramp App – our app makes identifying and ordering products easy! Whether you're in an office or out in the countryside, you can order what you need 24/7, straight from your phone.
Starting up a retail space – Our Powered By Kramp retail solution is perfect for those looking to start up or improve their retail space. We'll work with you on identifying the spend potential in your area, highlighting your expected turnover, and we can show you some previous success stories too!
For arborists, contractors and landscapers:
Access to great products, next day delivery at fair prices – If you're an arborist, landscaper or contractor you can sign up for a trade account with Kramp to gain access to the full product range, with next day delivery, delivered straight to a location of your choice.
Our Kramp App – our app makes identifying and ordering products easy! Whether you're in an office or out in the countryside, you can order what you need 24/7, straight from your phone.
What products are you bringing to SALTEX – are there any launches happening?
SALTEX is a full launch for us into this industry, so we'll be bringing a selection of products, and launching our full account offering to the forestry and grasscare industries.
Is sustainability an issue for you and if so, what are you doing to address these requirements?
Sustainability is increasingly on our agenda at Kramp UK and we're consistently trying to find more efficient ways to look after the planet. Now, we are focusing a lot on the way we package and transport products. We're reducing plastic, recycling more, and looking for ways to consolidate our deliveries so that we have less vehicles on the road. This is just the start for us, and we'll continue to work towards a more sustainable future every day.
How would you describe SALTEX in 20 words?
A great opportunity for us to learn from the people that make up the landscaping and forestry industries.