30 Sep 2022
Origin Amenity Solutions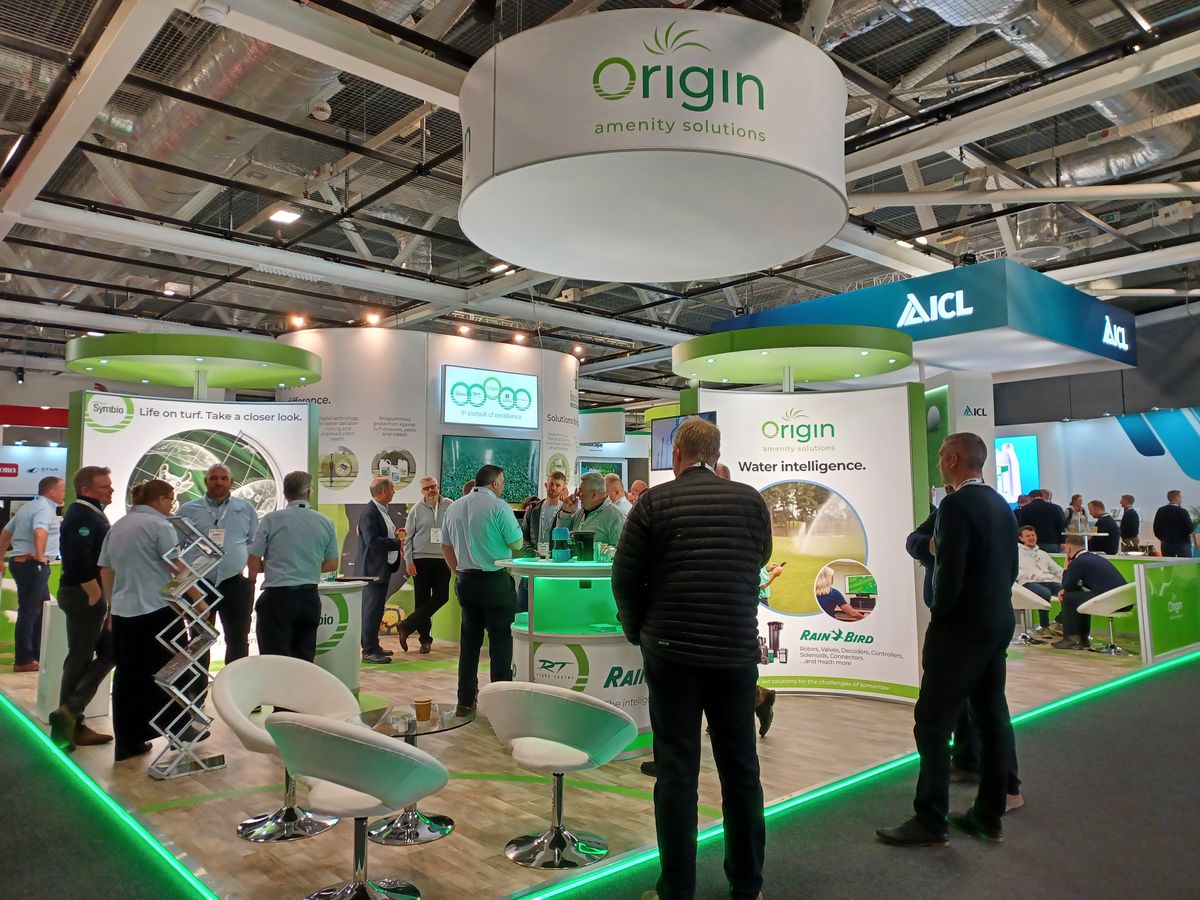 Combining the strength of industry leading companies and their products, together with a technology led research and development facility, Origin Amenity Solutions is a leading force in the UK amenity industry.
Visit Origin Amenity Solutions during SALTEX at Stand G060.
Richard Fry, Marketing Director explains more.
What don't most people realise about the company?
Origin Amenity Solutions (OAS) is a company comprising of four major industry brands: Headland Amenity, Rigby Taylor, Symbio and Turfkeeper. These leading brands have the ability to source and supply products that promote turf health, its protection, management, and sustainability. Their comprehensive range of vegetation control products is widely renowned for providing effective results in-line with a changing climate. OAS is the UK distributor of Rain Bird golf and landscape irrigation products and has pioneered the introduction of Tiny Mobile Robots to the UK industry of robotic pitch line marking. In addition, OAS provides a range of biological soil health solutions and Turfkeeper.com an online digital management system.
What are your best-selling products and why are they so popular?
Grass seed 'R' mixtures featuring tetraploid technology – such technology allows germination to be achieved at temperatures as low as 4°C. It is fast establishing, with deeper roots and more tolerant to disease.
A wide range of fertilizers (granules, liquids and soluble) for all surfaces and situations. Advanced granulation technology gives more effective and economical nutrient distribution.
A superb range of wetting agents in liquid, granular and tablet formulations, catering for the many problems arising from lack of water getting to the plant roots.
Impact Paints, an innovative range of ready-to-use liquid pitch marking paints which has revolutionised sports pitch marking. Fast, highly visual and longer lasting lines using a paint that requires no added water.
GPS robotic line markers that can mark a football pitch in just 20 minutes without any operator direct contact with the machine.
Soil Biology - A range of products that work with nature to restore balance to soil. From ThatchEater which rapidly degrades thatch and organic matter, converting it to humus and releasing locked-up nutrients for plant growth; to Compost Tea's, highly concentrated microbial solutions that contain beneficial bacteria, fungi and other soil organisms to promote biologically active soils and healthy plants.
TurfKeeper, an online management system that provides complete oversight of staff management, turf maintenance practices, machinery and chemical applications and department budgeting.
How has the industry changed/evolved?
Continued research and development and advanced technology has provided greenkeepers and grounds managers with new tools that apply products more accurately and can measure and record what is happening both at soil level and below.
The focus on education, especially by industry Associations is encouraging the younger generation to enter the industry and forge out their career path. And, in many areas, sponsorship and money from media outlets has brought in more money which has trickled down to provide more finance for purchasing products, in turn enabling turf managers to achieve better quality of surfaces on which sport is played.
What are the biggest factors affecting the industry today?
Climate change that may alter the mixture of grasses that are currently used in the northern hemisphere, may mean a change from current traditional cultural practices. More chemical products being removed from use, which again is likely to require different ways and methods of controlling problems. And of course, increased costs and limited availability of raw materials.
What are you looking forward to at SALTEX this year?
Meeting existing customers and potential new purchasers. The opportunity to showcase what the company represents; its philosophy of innovation linked to traditional practices, the promotion of a diverse range of products and emphasizing our values of customer service and support.
What can we expect from you at SALTEX?
A very warm welcome from a group of friendly, knowledgeable, and committed team. The stand will feature different zones where visitors can meet to discuss products, programmes, and solutions across a broad range of interests. The company's research and development and agronomy personnel will be available for in depth discussion on many technical issues.
What products are you bringing to SALTEX – are there any launches happening?
The OAS stand will feature products from its range of turf health and protection products, vegetation management, biological controls, Carbon4grass seed mixtures, wetting agents, line marking paints and machines. A key focus will be on the launch of the next generation TinyMobileRobot, the Tiny Pro X, a robotic pitch line marker and its companion marking paint, the Impact range.
Is sustainability an issue for you and if so, what are you doing to address these requirements?
Yes, most definitely. Sustainability is high on the OAS agenda. The company has already taken steps to address important environmental areas such as the reduction of pollinating insects, atmospheric carbon, and reduced water usage. We have been promoting the sowing of Euroflor flower mixtures for a number of years with our Project Pollin-8, to provide wildflower areas that encourage pollination, biodiversity and provide habitats for insects, small birds, and small mammals.
We offer a range of innovative Carbon4Grass grass seed mixtures which have a superior ability to sequester (lock-up) carbon in the soil compared to competitive mixtures.
Water wastage is also a key area that we have addressed. Our ready-to-use pitch marking paint, Impact, has shown a significant reduction in the amount of water used to mark lines on sports surfaces. One borough council saved almost 37,000 litres of water by switching to Impact ready-to-use paint for marking their managed football pitches.
How would you describe SALTEX in 20 words?
An exhibition for suppliers to showcase products and services and for turf management practicing professionals to meet, question, communicate and learn.