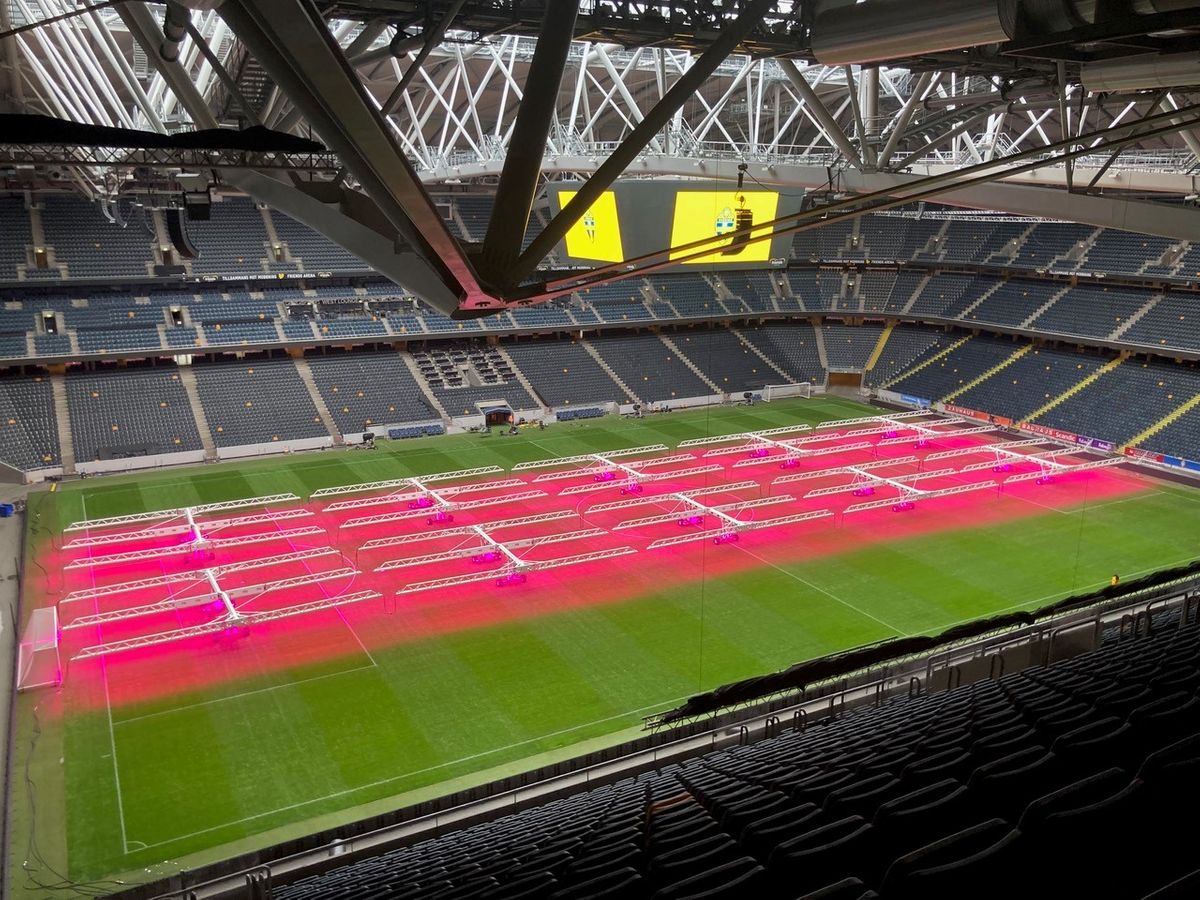 SGL is back at SALTEX 2022 with its TurfPod monitoring system (and Stroopwaffles!) as well as the newest member of the LED lighting range: the brand new LED50. Derk Pelle, content marketeer at SGL System, says rather than launching the new SGL LED50 unit digitally, an event like SALTEX enables them to showcase their newest product in real-life too. It helps to give end users a better feeling with the unit and ask questions about its features, while standing right next to it. Here we find out more.
Visit SGL during SALTEX at Stand G130.
What don't most people realise about the company?
When most people think of SGL, they think of our lighting systems - the shiny units on the pitch, working the grass. But the job done behind the curtains often gets overlooked.
Data is crucial in order to use the lighting systems in the most optimal and efficient way. From growth models to real-time data; it's the basis on which our technology functions and what makes our agronomy department, where the research is done on a daily basis, so important.
We feel that turf professionals should be able to implement data monitoring into their pitch management strategy and that's why we make data monitoring accessible, no matter what budget you're working with.
What are your best-selling products and why are they so popular?
Our data monitoring tool called the TurfPod is definitely one of our popular products. Groundsmen across the globe use TurfPods to get a better insight into what goes on above and below the surface of the grass. It helps them make the best data driven decisions and not just steer on the groundsman's gut feeling. We see an increased demand for LED grow lighting systems. More and more clubs are convinced by the benefits of agronomical LEDs and the possibility to save energy with LED-technology.
How has the industry changed/evolved?
Yes, stadiums have become bigger and bigger, and as well as the regular football competitions, they are nowadays often used to host concerts or other sporting events; they're multi-purpose venues. The number of pitch uses skyrocketed, while the demands for a high quality grass surface also increased. In the meantime, clubs are taking measures to reduce their ecological footprint and are big on hitting sustainability goals. At SGL we have to be innovative and creative to facilitate those changing demands. Fortunately, that's something we love doing every day.
What are the biggest factors affecting the industry today?
Sustainability is a topic high on the global political agenda, as it should be. More and more clubs across the globe realise they play a role in the transition to a more sustainable industry. That strive for sustainability is reflected in the growing demand for energy-efficient grow lighting LED technology. We're motivated to be innovative frontrunners and include sustainability goals in our product development without compromising on quality.
What are you looking forward to at SALTEX this year?
After years of Covid restrictions, we're looking forward to once again experiencing SALTEX in its full glory. It's always great to be surrounded by like minded professionals with a common interest in turf management. We're excited to show our products and have a chat with the attendees. For us, SALTEX is the perfect occasion to get in touch with the people within our industry, with customers, but also with people we don't know that well yet. It's a great opportunity to exchange knowledge and bond over a cup of tea.
What can we expect from you at SALTEX?
As always, you can expect us to bring our Dutch famous cookie called the 'stroopwafel'. Furthermore, our booth will display a variety of SGL products, with the main focus on lighting and data monitoring. Visitors will also be able to learn about the projects we've done and hear our thoughts on the future of lighting: LED-technology. Last but not least; if you do visit our stand, make sure you're ready to get your hand-eye coordination tested…
What products are you bringing to SALTEX – are there any launches happening?
With a focus on the importance of data monitoring, we simply cannot leave our TurfPod at home. We want to give visitors the full experience of working with the TurfPod and show how easy it is to implement data monitoring into their pitch management strategy. But this year the spotlight will shine on the newest member of our LED lighting range: the brand new LED50. An accessible and compact LED lighting unit, perfect for high wear areas such as goal mouths and corner areas.
Is sustainability an issue for you and if so, what are you doing to address these requirements?
At SGL, sustainability is a highly regarded topic and we feel obligated to carry our weight. The introduction of energy efficient LED-technology plays an important role in the transition to a more sustainable industry. Additionally, with accurate lighting calculations done by our agronomy department, we make sure the exact amount of necessary lighting is used and no energy goes to waste. We advise our customers on how to use SGL products as efficiently as possible and make sure that energy is saved to the greatest possible extent.
How would you describe SALTEX in 20 words?
SALTEX is an inspiring, international event where turf professionals come together to exchange knowledge and learn about the latest innovations in the industry and engage with turf professionals face-to-face.