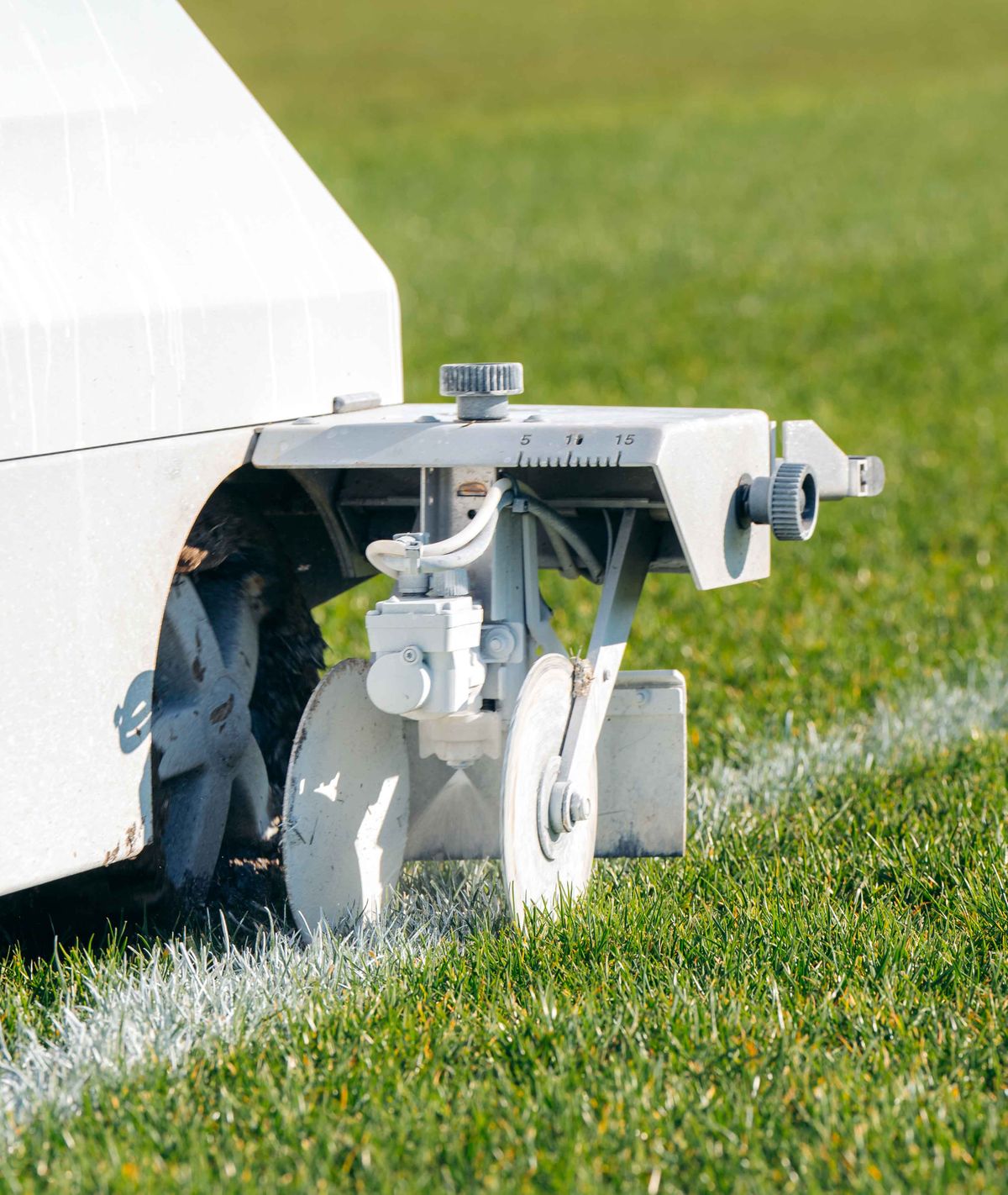 Turf Tank understands that line marking can be a challenging task when done manually. You have to put in a lot of hours with a team of several people, pulling strings, doing manual measurements, and pushing the line marking machine. Despite all your efforts and attention to detail, the job can often end with crooked lines. That is why we created Turf Tank One, the line marking robot – your teammate on the field – that will make line marking easier than ever.
Visit Turf Tank during SALTEX at Stand G085.
Diana Durdeu, Marketing Specialist at TurfTank explains what the company is looking to achieve at this year's event.
What don't most people realise about the company?
Many people are not aware that Turf Tank is the inventor of the world's first autonomous line marking robot. Our robot was the first of its kind, and from its creation, we revolutionised the industry. We continue to do so day by day through upgrades, continuous dialogue with our customers, listening to their feedback, and improving our products to fit the needs of turf managers.
We are constantly growing and have a big international presence, with over 1,000 customers all around the world, from small grassroots clubs to Premier League clubs. We exist to make the job easier for turf managers everywhere and we have more than 120 employees globally, to support this mission.
Turf Tank is the only line marking robot that uses a local base station, which ensures the robot can find the correct location of the lines and will overmark them with supreme precision every time. The base station allows the machine to be operated without cellular connectivity and coverage, which means the user is not dependent on an external signal and the marker can be used anywhere on the planet, with unprecedented reliability.
What are your best-selling products and why are they so popular?
The Turf Tank One automates the line marking process, transforming a physically demanding and time-consuming process into a one-man job.
While the robot marks the entire pitch all by itself it frees up time for turf managers to focus on other important tasks around the site, which very often got neglected in the past. If we take the example of a football field, painting it manually would require a staff of two around three hours to paint a field from scratch. With the robot, the user needs just five minutes for setup and the robot will mark the pitch in less than 25 minutes, thus reducing labour costs on line marking by 90 percent.
Not only does the robot improve productivity, but it also significantly reduces paint consumption. Its consistent speed and spraying pressure ensure a consistent application of paint, which can lead to a reduction of 50 percent in paint bills.
Turf Tank One also ensures the fields are always in perfect condition. With the manual way of marking pitches, the lines tend to creep, without the grounds crew even noticing the little bit of creeping. But due to its GPS technology, the robot can easily find the correct location of the lines and mark them with maximum precision every single time.
How has the industry changed/evolved?
We are happy to see professionals starting to embrace technology more in their day-to-day tasks and accepting innovations that make their job easier, while increasing efficiency. People are looking for solutions that improve their work conditions and technology is here to support them, putting less pressure on their bodies, and adding considerable years to their careers.
What are the biggest factors affecting the industry today?
There are still people who are reluctant to embrace technology and think that the groundsmen are being replaced by robots. The Turf Tank robot does not replace groundsmen. The job of a grounds person is very complex, consistently under time pressure. Turf Tank is the solution to alleviate the time constraints and give them more time to focus on tasks around the site.
Sustainability is another important topic in general and we are happy to see it start to gain importance in the turf management industry. People are looking for more sustainable solutions to get the job done – and we are happy robotics line marking has a lot of advantages in that regard.
What are you looking forward to at SALTEX this year?
We are happy to continue our tradition and return to SALTEX in 2022. We are looking forward to all networking opportunities, meeting new people and introducing them to the latest technologies. We are excited to learn from other professionals the new trends. And as always, we are happy to meet our customers, to listen to their feedback, learn from their challenges and collect information to improve on our products.
What can we expect from you at SALTEX?
We are excited to bring back to SALTEX the winning product from the SALTEX Innovation Award in 2017. As with every year, our team is ready to show turf managers how a robotic line marking solution could improve their line marking operations and answer any questions related to our technology.
What products are you bringing to SALTEX – are there any launches happening?
Apart from our Turf Tank One robot, we will showcase our next generation robotic line marking software, which completely transforms the way the robot operates. The new Turf Tank app is the result of years of dialogue with turf managers and it incorporates all that feedback to help them do their job faster and easier than ever.
The new system brings a set of new features which improve the user experience. On one hand it gives the users a fast and easy solution of painting their fields, with just a few taps on the screen, while it also gives more freedom to the user, who now has full control in customising every little aspect of the line marking process.
And of course, there will be surprises, but we keep the suspense until the show! We invite everybody to our booth #G085.
Is sustainability an issue for you and if so, what are you doing to address these requirements?
In today's climate, it's more important than ever for all companies to be aware of the impact they have on the environment and to adopt sustainable practices in everything they do. Here at Turf Tank, we are committed to helping sports facilities around the world implement sustainable line marking solutions for a better future.
The Turf Tank Robot is a sustainable alternative to traditional line marking methods.
It is battery-powered, compared to the petrol-powered alternatives, which means it doesn't consume any fossil fuels and helps sports facilities reduce their carbon footprint.
The Turf Tank robot maintains a consistent speed and spraying pressure for the entire pitch, which leads to more consistent results and reduces the paint consumption by 50%. It's a great way for organisations to be more mindful about their resource management.
For us sustainability means more than the impact on the planet. It is also about the impact on the people and society at large. The robot makes the job easier for turf managers, minimises the physical effort and improves their work conditions. This in turn solves a bigger problem in turf management, the labour shortage and leads to more sustainable jobs.
How would you describe SALTEX in 20 words?
SALTEX is an unmissable networking opportunity for the turf management industry in the UK.