16 Jun 2023
'Boost Your Game' at SALTEX - Registration Now Open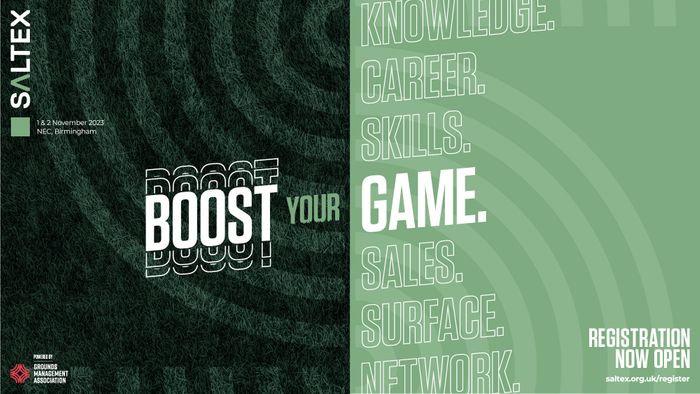 Visitor registration for SALTEX 2023, Europe's largest free sports turf, amenities, and landscaping trade exhibition, is now open. And with it the chance to win a one-night stay at the Moxy Birmingham NEC on the first night of the show.
The theme for 2023 SALTEX is 'boost your game' which will see SALTEX focus on providing visitors and exhibitors with all the key tools needed to be successful in the groundscare sector.
With last year's show bringing together over 8,300 visitors from 50 plus countries with the biggest names in the groundscare industry, there is no better place for those working in the grounds car industry to boost their game.
Sarah Cunningham, director of commercial and events at the Grounds Management Association, explains: "At this year's attendees will be supported in boosting their knowledge, career, skills, sales, surface, and network – all of which will result in an industry that is better connected, holds more expertise, and continues to be at the forefront of turfcare around the world."
Sarah continues: "SALTEX was set up by the industry for the industry, keeping the many different reasons that people attend in mind, at all times. For example, boosting sales is much easier when over 60 percent of visitors attending play a role in the purchasing decision."
In addition, Sarah confirms, "Visitors can hear from the industry's leading experts, as well as groundscare professionals from the country's top sports grounds, covering burning topics in the Learning LIVE seminar programme.
"There will be opportunities to speak to grassroots pitch advisors from the GMA and representatives from the National Governing Bodies to receive technical advice as well guidance on accessing much-needed funding and ways to upskill through the Grounds Management Framework," she says. "All this is in addition to the unrivalled opportunities to network, earn CPD points and speak to experts offering career advice."
With soon-to-be-announced exciting new show features making their first appearance at the show, Geoff Webb, CEO of the Grounds Management Association is keen to ensure that SALTEX continues to adapt and cater to the industry's needs as it has done numerous times over its 76 exhibitions: "All income generated by the show is ploughed back into the industry securing its future for generations to come.
"By attending SALTEX, visitors are supporting the vital year-round work that enables the GMA to invest in important resources for the sector, as well as developing closer and more collaborative relationships with sports bodies that can help create inward investment back into the sector. Registering for your free ticket doesn't just benefit you, it benefits the industry too."
Registering now comes with the bonus of being entered into a free prize draw with the first 1,000 people to register as visitors in with a chance to win a one-night stay at the Moxy Birmingham NEC on the first night of the show.
Competition details and T&Cs can be found at https://bit.ly/3PkITZU