31 Aug 2023
Making Sport Possible at SALTEX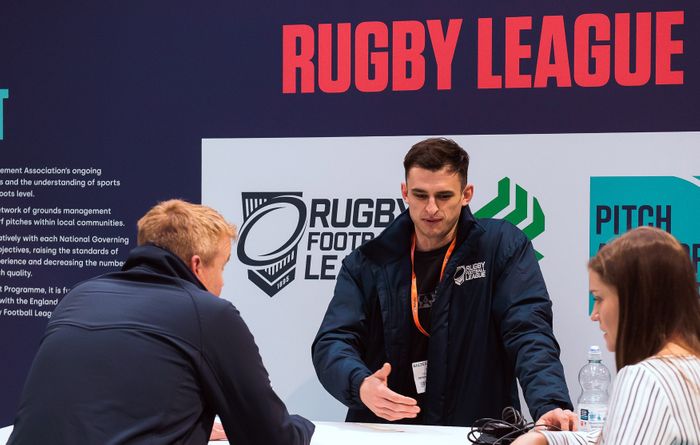 SALTEX and its organisers, the Grounds Management Association (GMA), pride themselves on the 77-year history of the event and making it the largest trade show for the sector in Europe. This history, along with the GMA's work towards making sport possible, has made SALTEX the exhibition of choice for five of the UK's National Governing Bodies (NGBs).
Year round the GMA, Football Association (represented by Football Foundation), Sport England, England & Wales Cricket Board, Rugby Football League, and Rugby Football Union work collaboratively to improve pitches and upskill those in the industry.
SALTEX is the exhibition of choice for these leading sporting bodies when it comes to meeting those who work in the groundscare industry. This has been proven by their annual participation over two busy days on the buzzing SALTEX show floor, sharing insights learned from their work, providing free technical advice on maintaining playing surfaces, and providing guidance on accessing funding.
Following its launch at Lord's Cricket Ground earlier this year, representatives from the NGBs will be on hand to speak with visitors about the GMA's Grounds Management Framework. The NGBs, along with members of the Pitch Advisory Service, will be available at the GMA Hub to offer support to grounds staff in learning how they can use the game-changing framework to upskill and improve their playing surface, as well as gain access to a wealth of information.
Jason Booth has worked in the grounds care sector his whole career, from his early days at Yorkshire County Cricket Club and Leeds Rhinos to becoming chief operating officer at the GMA, and understands the importance of building closer relationships between the groundscare sector and the NGBs. Here, Jason explains why SALTEX is the exhibition of choice for five leading National Governing Bodies:
"Our relationship and the work we do with these five leading NGBs is critical to the future of sport. Whether professional or grassroots, sport is simply not possible without grounds staff and groundscare businesses – our industry as a whole. The NGBs understand this which is why they support the sector through funding and by attending SALTEX.
"The NGBs also play a major role in our Learning LIVE education programme where they will discuss several burning topics relevant to their respective sports, from grassroots facility funding and workforce development to showcasing the work that has gone into the major sporting events this year.
"Their input, in addition to other interactive panel discussions, which will cover key issues such as pay and reward, mental health and wellbeing, and work-life balance, adds great value to our Learning LIVE programme. And there'll also be the latest updates on key legislations or restrictions, that are essential for today's grounds staff to be aware of."
Jason continues: "SALTEX is a date in all our diaries where we can come together, meet likeminded colleagues from the sector, and network with grounds staff from all sports and at all levels, from the grassroots to representatives from UEFA. There really is no better place than SALTEX for grounds staff and those working in the industry to get the latest updates on funding, as well the opportunity to meet and talk to the representatives from the NGBs about our challenges as well as paths to success."
Register now for Europe's largest and leading sports turf, amenities, and landscaping trade exhibition at Birmingham NEC on 1-2 November 2023 at: https://bit.ly/456l0dA