19 Oct 2023
New Community Sport Zone at SALTEX 2023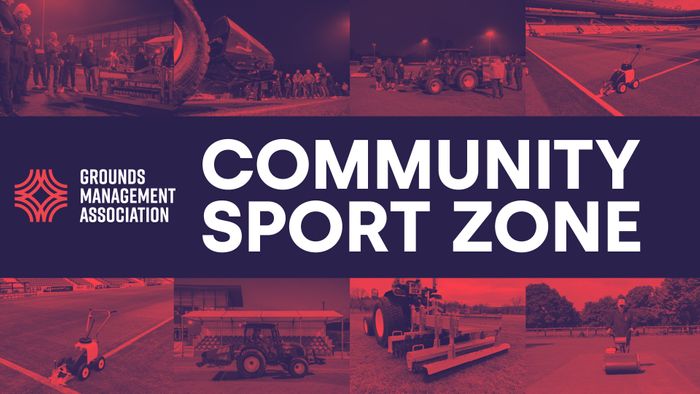 New to SALTEX 2023 is the Community Sport Zone which presents a range of grass pitch maintenance machinery curated to be of specific interest to grassroots and community football, rugby union and rugby league clubs - all of which can be purchased through funding schemes.
Spokespeople from the brands will be present alongside the GMA's Regional Pitch Advisors to guide visitors through the features and benefits of the machinery, answer questions and explain how this machinery is available to purchase thanks to the millions of pounds of funding that has been awarded via the Premier League, The FA and Government's Football Foundation to support grassroots football, as well as for Rugby League and Rugby Union in England.
In the zone, located alongside the GMA Hub, will be compact tractors from Campey Turf Care and Iseki, combination grooming tools such as Quadraplay, tractor mounted slitters from Greentek Solutions, tractor mounted fertiliser spreaders, cricket mowers, and line markers from Fleet Ltd.
The GMA's Pitch Advisory Service is made up of grass pitch experts and understands volunteer and community sport grounds staff better than anyone else. The Pitch Advisory Service works throughout the year to support sport's National Governing Bodies in improving the quality of grass pitches across the country and at all levels of sport, with particular focus on community sport.
The machinery on display in the Community Sport Zone has been curated from Pitch Advisory Service recommendations in their grass pitch reports facilitated through the Football Foundation's PitchPower web-based app.
Jason Booth, chief operating office at the GMA, says: "We're always looking at new ways to bring value and valuable experiences to visitors at SALTEX, hence the introduction of the Community Sport Zone at this year's event.
"It will showcase key machinery that will directly benefit grounds people at a recreational level and is an opportunity not to be missed for grassroots clubs needing an introduction to the machinery and the funding opportunities available.
"We are extremely proud of the work our Pitch Advisory Service does year-round to support community sport across the country in collaboration with our partners at the National Governing Bodies – the machinery on show wouldn't be possible for community clubs to acquire if it wasn't often funded through the Football Foundation's Grass Pitch Maintenance Fund.
"We appreciate the National Governing Bodies' support and look forward to introducing a new audience to the world of benefits that SALTEX can offer grounds care professionals at all levels of sport."
There will also be a guided tour with the GMA's Regional Pitch Advisors taking visitors around the show floor to see the exhibitors displaying more specialised equipment.
To take advantage of this unique opportunity, register now for Europe's largest and leading sports turf, amenities, and landscaping trade exhibition at Birmingham NEC on 1-2 November 2023 at: https://bit.ly/456l0dA