01 Mar 2022
Exhibitors Continue to Invest in SALTEX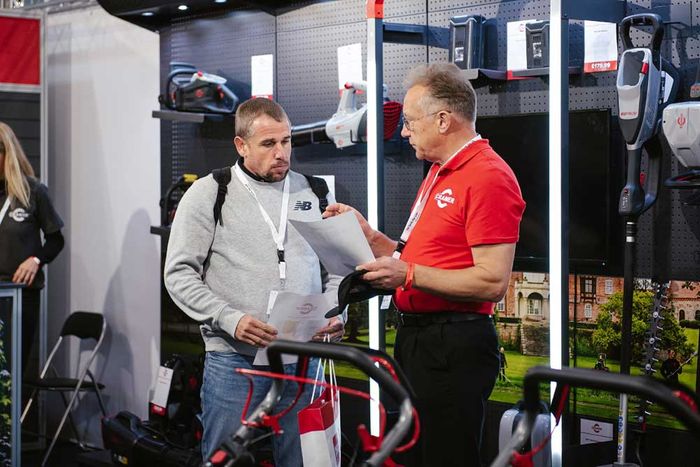 Early indications for SALTEX 2022, which takes place on 2 and 3 November at the NEC, Birmingham, are extremely positive after show organisers reported a hugely successful loyalty period.
Over 100 exhibitors have re-booked for SALTEX 2022 and many more continue to confirm their presence during the current discounted early-bird period which ends on 18 February.
In 2021, 93% of exhibitors generated new sales leads with many taking direct orders on the show floor. The 2022 floorplan already boasts a strong showing of renowned exhibitors.
Furthermore, an incredible 15% of 2021 exhibitors have also purchased extra stand space for SALTEX 2022 which is testament to the success of the 2021 event.
Cramer, who exhibited at SALTEX 2021, has over doubled the size of its stand for SALTEX 2022. Cramer, supported and distributed by Handy, used SALTEX 2021 as a launch platform to promote its 82V range of commercial ground care equipment.
"SALTEX 2021 went way beyond our expectations," said Handy's Sales and Marketing Director, Mark Moseley. "What really opened our eyes was the quality of visitor and the heightened interest in the Cramer products. On our stand we had a lot of large dealers which is what we were looking for; we had big contractors, who are the kind of people we need to be talking to; and we spoke to many councils that want to convert from petrol to battery powered products.
"It was one of the busiest shows we have ever experienced," continued Mark. "In fact, we took a certain number of catalogues that we thought would last us for two days, and they were all gone within the first two hours of the show opening. We're still following up on all the leads we received at SALTEX, and we have carried out so many demonstrations. We have already brought on-board a lot of new customers and dealers because of SALTEX.
"Our experience of SALTEX 2021 has given us the confidence to go bigger at SALTEX 2022 and to take advantage of the quality of clientele."
Toro UK is exhibiting with a bigger stand at SALTEX 2022 and Matthew Colman, Sales Manager, revealed exactly why.
"SALTEX 2021 was a great success for us at Toro UK Ltd. Finally, we had the chance to showcase new and innovative products within our landscape contracting equipment.
"It is with huge excitement that we're going even bigger at this year's SALTEX. During the pandemic Toro invested more on development than ever before. Our stand at SALTEX 2022 will be displaying everything we've been working on over the last few years for the first time in the UK."
Comments such as these can only be a reflection on the growing number of exhibitors in the 2022 show. After a year's absence STIHL UK, Barrus and Vale Engineering have also confirmed that they are returning to SALTEX 2022.
Geoff Webb, GMA CEO, commented on the positive start, saying: "SALTEX continues to grow, and the sales team are receiving new enquiries every week alongside existing exhibitors investing in bigger and additional stands.
"We are also delighted to be welcoming back previous exhibitors who were unable to join us in 2021. There is extremely high demand at this period in the sales cycle taking us back to pre-pandemic levels."