01 Dec 2021
SALTEX – Back in Style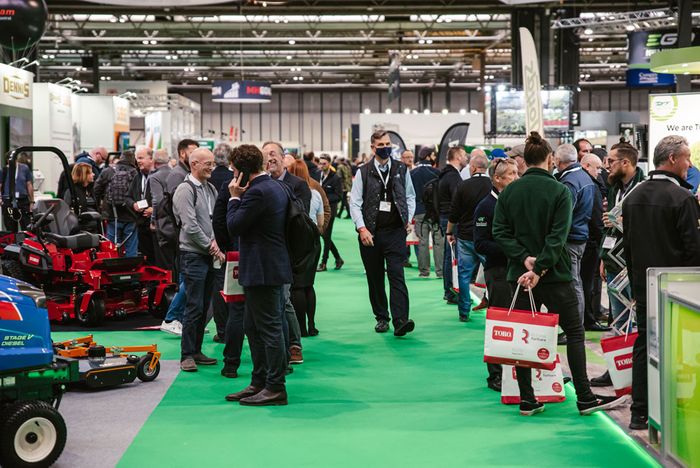 After a year's absence, SALTEX roars back into life and celebrates a very memorable 75th anniversary.
Put back a year due to the pandemic, the buzz was certainly back on the show floor as SALTEX 2021 reunited the industry and brought together almost 7,500 attendees across two days.
It was apparent among exhibitors and visitors that Europe's largest annual turf management event was exactly what the grounds management industry needed.
The annual exhibition organised by the Grounds Management Association (GMA), offered visitors a fantastic opportunity to witness the largest product and service showcase in grounds management, including many new innovations being unveiled for the first ever time at this year's vibrant show.
New and inspiring technology was celebrated through the SALTEX Innovation Awards; a prestigious hallmark for products showcasing the future of groundscare. From robotics to battery-powered mowers, tractors to utility vehicles, grow lights to chain saws, the entries included a wide variety of high-quality products, services and equipment.
Judged by an independent panel of industry experts, the following innovations at this year's awards ceremony took the glory.
Innovations continued to flourish throughout the event and the ever-popular Eco Village attracted a large amount of footfall. Visitors were able to see cutting-edge sustainable technology in action by GroundWOW, Dennis Mowers, Allett Mowers, Campey Turf Care Systems, Overton UK, Toro and Avant UK.
Every person who registered for SALTEX was in with a chance of winning the battery-powered E6 compact loader from Avant UK on loan for a period of six months, and after being selected by random on the first day of the show, Richard Mason from Sedbergh School was handed the keys to his new prize.
Elsewhere on the show floor, Learning LIVE, SALTEX's all-encompassing education programme featured over 30 sessions and a number of high-profile speakers who tackled a number of key issues such as the future workforce, climate change and mental health. Other show features on the GMA Hub, including Pathology and Soil Science Live, Ask The Expert and the Job Clinic, offered invaluable free advice and career progression opportunities.
Many exhibitors reported that a substantial number of visitors were high-quality buyers with serious intent. Commenting on the vast number of business leads he received, Rupert Price, managing director of UK importer Price Turfcare, said: "At the end of the first day at the show, we were returning to the hotel and reflecting on the high level of business and number of visitors that we had seen. Honestly, we were sceptical about the possible visitor numbers prior to the show but were very pleased with the footfall across the stand and the number of demonstration requests received."
Echoing Rupert was Caroline Shaw, European marketing manager at Trimax Mowing Systems: "SALTEX is about is all about getting people together," she said. "It is a great opportunity for us to network with our dealers, existing customers and new potential customers. SALTEX is a great place for us to entertain, which is always really important."
The overwhelming consensus was that SALTEX 2021 successfully re-united every corner of the grounds care industry and demonstrated to newcomers just how great the sector is.
"I have been coming to SALTEX for many, many years and I never get bored of it – it is a great opportunity to see what is out there in the industry," said Ted Mitchell, national facilities development manager at the Rugby Football Union (RFU). "This year has been great, and particularly because we have gone through a restructure at the RFU, and we have new members of the team. SALTEX has really opened their eyes to the sector and the wider industry."
Geoff Webb, Grounds Management Association (GMA) CEO, reflected on what may well have been the most meaningful SALTEX yet. "On behalf of all of us at the GMA we really want to extend our thanks to all our exhibitors and visitors that have showed their support for SALTEX this year. It has been a turbulent period for us all and we are delighted that we got the opportunity to celebrate the 75th edition with so many of you.
"I believe SALTEX 2021 has brought hope for the future and has showcased what our industry is capable of overcoming."