09 Jan 2022
SALTEX Hailed a Success by Exhibitors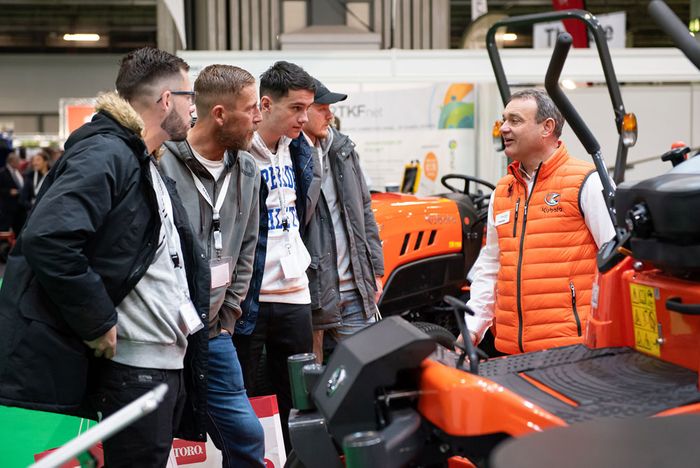 This year, 93% of exhibitors said SALTEX generated new sales leads, while 96% believed SALTEX was perfect for promoting and maintaining their company profile. In addition, 81% of exhibitors said that exhibiting at SALTEX was important to their overall business strategy and 82% believed it was a perfect opportunity to meet existing customers.
When asked to rate their primary target audiences, the below sectors received the highest number of responses.
Professional sports – 48%
Local authorities, councils, parish, town planning – 48%
Contractors – land construction, grounds – 41%
School, colleges, universities – 40%
Dealers, distributors, retailers – 40%
Landscapers – 33%
Furthermore, 71% of exhibitors stated that they will be returning to exhibit at SALTEX 2022. In fact, many have already rebooked with a large percentage increasing the size of their stand. An influx of debut exhibitors has also been reported by the Grounds Management Association (GMA).
"For us it is the number one grounds industry show," said Les Malin, managing director of Etesia UK. "There are a number of other exhibitions, but they tend to have their own sector that they work in. SALTEX on the other hand attracts a mix of customers right the way through the entire grounds industry."
Ray McNally from AS Tractors chose SALTEX to launch Mitsubishi Tractors to the UK market and wasn't disappointed. "This is our launch, and it has gone beyond our expectations," he said. "Everyone in the horticultural and grounds industries attend this show and these are the demographics Mitsubishi Tractors is targeting. It's the perfect platform for us and it has been wonderful."
It was the first SALTEX for Origin Amenity Solutions since bringing together four major industry brands and Richard Fry, marketing manager, was feeling positive. "There was a lot of soul searching and sleepless nights before the opening day of SALTEX, but wow, it has been fantastic. There has been a two-year break since the last show, but the industry has responded. We are very pleased and there has been great footfall from the get-go."
SALTEX 2021 celebrated its 75th anniversary and remarkably there were two companies on the show floor that have exhibited at all 75 shows – Lloyds & Co and Dennis Mowers.
"We value the loyalty that the Grounds Management Association has always shown us, and we've always stuck with them," said Clive Nottingham, managing director of Lloyds & Co. "I'm pleased that so many people have come through the door, and it has been a lively show. We've had lots of conversations, and there will be lots of quotations, enquiries and work to follow up."
Ian Howard, managing director of Dennis Mowers also underlined the importance of exhibiting at SALTEX. "I think it is critical to come and meet existing customers, to meet new customers and to listen to what people have got to say. It is the customers that come up with the innovations at the end of the day and every Dennis product that we have got, both petrol and electric, is a result of what customers have said to us. SALTEX is an investment for the future."
SALTEX 2022 will be held at the NEC, Birmingham on 2-3 November.