21 Sep 2023
Made for every slope... Zero-Turns from Cub Cadet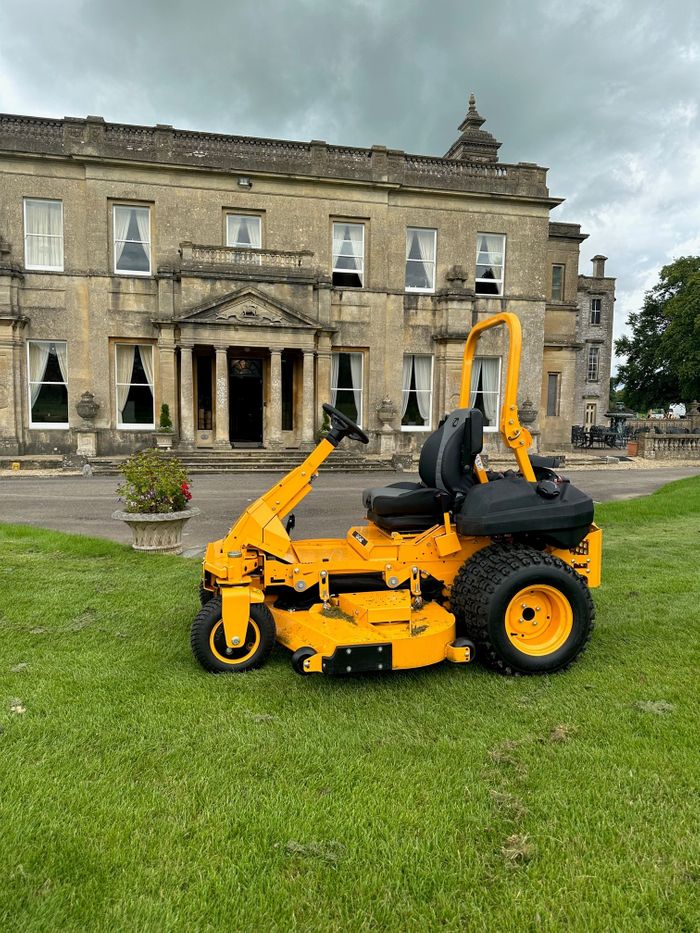 Cub Cadet, the proven innovator of zero-turn technology, has created their strongest line up of zero-turn riders – whether you are a landscape professional looking for a machine that can handle any terrain or a small business owner looking for a machine for your customers large lawn maintenance.
You can book a demo of our machines at www.cubcadet.co.uk/book-a-demo
Once tried. Never forgotten.
Z9 – Top of the range professional zero-turn
The top of the range Z9 183id zero-turn, will fulfil all your commercial requirements.
With extremely wide double wheels, the Z9 has been developed to effortlessly tackle even the steepest slopes up to 25° / 46%.
The ability to control all four wheels with a steering wheel and steerable front wheels, an exclusive offering by Cub Cadet in the commercial sector, minimises the turf being churned up by the wheels or crabbing on banks. The patented Synchro Steer® technology means that even the less experienced operators can benefit from the ease of use and amazing manoeuvrability of this machine.

The Z9 provides greater hillside stability and enhanced traction on uneven terrain as well as mowing in straighter lines.
It powers through the thickest grass in one pass at maximum speeds of up to 12mph meaning you can do the job quicker. The high lift Marbain blades with a blade tip speed up to 18,500 fpm and the 3" total blade overlap will ensure that you always get a tight consistent cut. The frame and axle on the Z9 floats as the machine moves, allowing the multi-reinforced steel deck to follow the shape of the terrain and avoid scalping. The cutting deck can be adjusted at the touch of a button.
The Kawasaki EFI engine provides the consistent power you need to get the job done and maximise your work-day – reducing the downtime which could cost you both time and money. The petrol engine benefits from having reduced fuel usage, while the 2 x 34 litre tanks gives you the ability to operate all day.
Comfort is at the forefront of the machine's design. Your operators can experience a smooth ride all day long thanks to the exclusive air-ride seat and isolated dampening system on the Z9 – meaning they are working in vibration-controlled comfort, lessening downtime for your business. Angled back adjustments, padded armrest and lumbar support give added protection.
Ideal for commercial users, the Z9 has everything and more that you would expect from a quality professional machine - ultimate performance, comfort and durability that delivers a fast, premium cut time and time again. You'll also benefit from a warranty of 3 year or up to 1000 hours (whichever comes first) for commercial and private use.
New XZ8 – Conquer the hills
The new XZ8 series, launched in 2023, features steering wheel control and bridges the gap between professional and consumer zero-turn machines. They are engineered to mow precisely and help prevent turf damage – even on sloping terrain.
The two machines powered by either a Kawasaki or Kohler engine also feature Synchro Steer® technology to retain full control of the front wheels. Steering and drive control are synchronised to help control the speed and rotation direction of each rear wheel, whatever the position of the front wheels. The robust steel frame is designed for durability even on challenging terrain.
The machines will mow an area of up to 13,000 m²h with cutting deck widths of 122cm / 48" and 137cm / 54".
XZ7 – Designed for every challenge
The Award-winning design of the XZ7 L152i from Cub Cadet redefines the zero-turn mowing experience - with enhanced strength, re-imagined comfort and a great cut.
The latest steering lever lap bar technology combined with the extremely robust construction of heavy-duty components and high-performance engines makes the machine the ideal professional machines for large lawn maintenance.
The open continuous tubular lightweight steel frame is designed for strength and durability. The hinged/removable floor pan allows quick and easy access to the welded, all round reinforced AeroForce Max™ mowing deck and engine for ease of maintenance.
A powerful Kohler EFI V-Twin dual cylinder engine gives the machine the power to mow up to 15,000 m²h.
With a large cutting width of 60"/152cm, the machine puts owner/operator comfort at the forefront of its design with a premium high-back seat with armrests and adjustable suspension for fatigue-free working.
The XZ7 L152i is ideal for mowing rolling hills, with its outstanding stability on slopes, and around obstacles, with its effortless manoeuvrability. Even on the most difficult lawns the spring-mounted suspension on the front wheels ensure a smooth ride with less vibration.
XZ6 – Steering wheel range
The models in the XZ6 range, give you great steering capabilities on challenging terrains. The industry-leading SyncroSteer® technology for full control of the front wheels, combined with powerful Cub Cadet and Kawasaki engines makes the XZ6 series the ideal machines for large lawn maintenance if you prefer the ease of a steering wheel.
With 3 cutting widths available from 107cm / 42" through to 127cm / 50" and a maximum mowing area of 11,500 m²h and speed of 7 mph these machines will provide the ideal solution for your large mowing jobs. You'll be able to mow in comfort for hours due to the high back premium seat and mow slopes up to 20° / 36%.
The award winning continuous lightweight tubular steel frame is designed for strength and durability. A fabricated mowing deck ensures unsurpassed mowing performance.
Our unique zero-turn riders with a traditional steering wheel provide you with amazing manoeuvrability and full control of the front wheels.
At Cub Cadet we trust our XZ6, XZ7 and XZ8 to perform with maximum durability and robustness and offer a warranty of 3 years or up to 500 working hours (whichever comes first) – for commercial or private use as well as offering a dealership service that delivers true advantages to you and your business.

Our large range means that both professionals and business owner alike can find their ideal zero-turn machine; whether they are looking for a serious bit of kit to mow steep slopes or to mow their customers large lawns… Cub Cadet have got you covered this year and every year going forward.