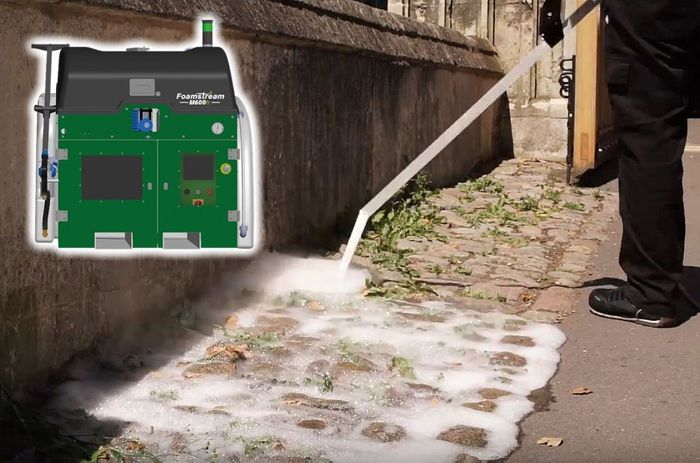 Weedingtech highlight hybrid power at SALTEX for even more environmentally-friendly weed control – stand E057
The chemical-free solution to vegetation management is already a firm favourite with a number of councils and local authorities around the country, with the new M600H offering further benefits to the operator and wider environment.
With changes to herbicide and environmental legislation and growing public pressure to reduce usage of harmful weedkillers and chemicals in green space management, Foamstream has fast become recognised as the future of non-chemical control. In trials, Foamstream has been proven to be as effective at treating broadleaf weeds – including species that can be difficult to control by conventional methods – as Glyphosate.
Its active ingredient is hot water, which is insulated by a patented foam formulated from 100% natural plant oils and sugars meaning it can be used in any weather and on any surface, including environmentally-sensitive areas and those close to children or animals. The foam maintains kill zone temperatures for six times longer than other heat-based treatments, killing the weed, damaging the root and sterilising seeds and spores to reduce re-growth. This means Foamstream requires fewer treatment cycles than any other alternative solution on the market.
Foamstream is delivered via industry-leading machinery, available in different sizes and with different power options, suitable to mount on a variety of UTV's or municipal vehicles. The M600H is Weedingtech's first hybrid unit, combining the economy of Lithium-Ion battery power with the proven efficiency of a diesel-powered boiler. The M600H offers a flow rate of 6 litres per minute and, as the quietest unit in the range, is particularly well suited to jobs in inner-city and rural environments.
In addition to controlling weeds, moss and other unwanted vegetation, the M600H offers further benefit by tackling a host of other urban tasks including sanitisation, gum removal and the cleaning of graffiti.